Last Updated On 20 February,2018 11:32 pm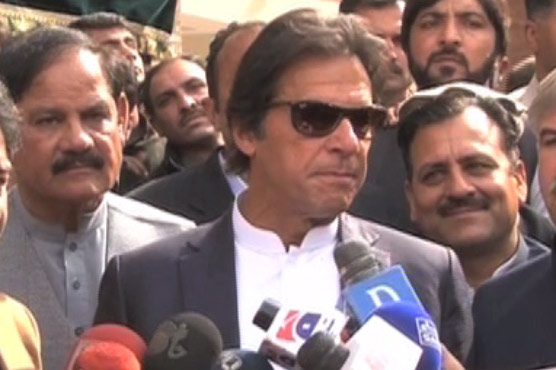 PTI Chairman Imran Khan said PML-N is trying to save Nawaz Sharif through parliament
PESHAWAR (Dunya News) – Imran Khan warned on Tuesday that his party will launch protest if parliament is used against judiciary, adding that the ruling party is making an attempt to save Nawaz Sharif.
In a media talk, the Chairman of Pakistan Tehreek-e-Insaf (PTI) said, "If parliament is used against judiciary then we will protest on roads."
During the speech in the National Assembly, PM Shahid Khaqan Abbasi had raised the matter of judicial reforms, and said that the House should talk on the judicial verdicts taken in the past, asking whether parliament alone has the right of legislation or not. He also said that he had not criticized the judiciary rather he had talked of constitutional limits.
The Chief Justice of Pakistan (CJP) Justice Saqib Nisar had also responded to the questions raised by certain legislators asking how the top court can intervene in the lawmaking process by saying that the constitution is above parliament, despite parliament being supreme.
Meanwhile, Imran Khan said that they will regulate Senate elections by direct voting after coming to power. "Senators will be elected by the voting of people," he added.
The PTI chief claimed that there was an offer for Senate membership in exchange for Rs 400 billion.