Last Updated On 02 February,2018 05:51 pm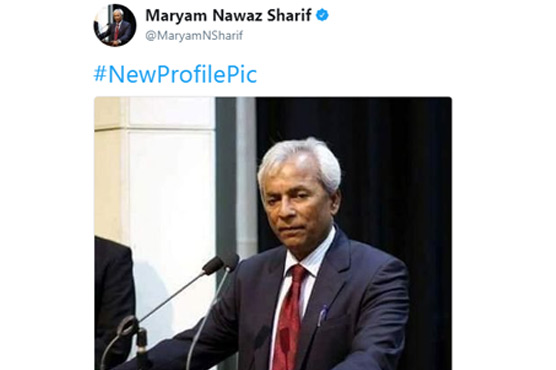 Some endorsed support for the disqualified PML-N Senator Nehal Hashmi and others found irony in it
(Web Desk) – Maryam Nawaz changed her profile picture on Twitter after which her post became an online battlefield for the PML-N supporters and their rivals.
While some endorsed her support for the disqualified PML-N Senator Nehal Hashmi, others found irony in it.
"Earlier DP: Nawaz Sharif Current DP: Nehal Hashmi Next DP: Talal Ch Further next: Khawaja Asif Then: Rana Sanaullah Then: Sharif family group photo," one Twitter user joked.
Another said, "Salute to Maryam Nawaz for standing with the PML-N worker."
---
Seriously? https://t.co/zN1m3HKEnk

— Zarrar Khuhro (@ZarrarKhuhro) February 1, 2018
And then you ask why I support Maryam Nawaz. She's the only lady who has courage to stand for justice and have possess strong footings for what is right and these are the right qualities for a leader. https://t.co/xKbIEEtFB1

— Sania Ashiq (@SaniaaAshiq) February 1, 2018
#MaryamNawaz has to change a lot of DPs in the coming days !#NewProfilePic #DanyalAziz #TalalChaudhry #NehalHashmi #PMLN #demNoonies

— KK (@Iam_Kashifkhan) February 2, 2018
Wait...your party disowned him then after he openly threatened the judges but today he is a hero for getting punished for it? https://t.co/tUYWaUtSN2

— Aaliya Javed (@Aaliyajaved) February 2, 2018
Summary of Baji Maryam s struggle for democracy. #NehalHashmi pic.twitter.com/ZlTLYDdlSb

— Salman Sikandar (@SALSIKandar) February 1, 2018
I expect Maryam Nawaz Shareef to Visit Nehal Hashmi in Jail. Inshallah Jabr k din torhay hai. Jamhoriat ka sooraj jald urooj hoga.

— Shahid (@CricFan07) February 1, 2018
Earlier DP: Nawaz Sharif
Current DP: Nehal Hashmi
Next DP: Talal Ch
Further next: Khawaja Asif
Then: Rana Sanaullah
Then: Sharif family group photo #NawazSharif #MaryamNawaz pic.twitter.com/UpwdMoTGRu

— Tayyab Warraich (@TayyabbWarraich) February 1, 2018
---
Today, the Election Commission of Pakistan (ECP) has de-notified the former lawmaker of PML-N after Supreme Court's verdict of sentencing him to one month in prison in contempt of court case. The notification further supported the clauses with SC verdict and declared the seat from Punjab as vacant.
The support shown by the ex-PM's daughter to Hashmi contracted with the fact that PML-N had itself expelled him from the party over his controversial anti-judiciary speech upon the report submitted by the disciplinary committee headed by Raja Zaffarul Haq.
On May 28 2017, Hashmi triggered a political storm by threatening the members of the joint investigation team (JIT) and Supreme Court judges of "dire consequences" after their retirement for probing Sharif family in connection with Panama Papers case. The ruling party had distanced itself from his outburst and then PM Nawaz Sharif had himself sought his resignation from Senate seat and suspended his party membership.
It is worth mentioning that the top court has narrowed up on the PML-N leaders after their anti-judiciary tirade as notices of contempt of court were issued to Minister of Privatisation Daniyal Aziz today and State Minister Talal Chaudhry. The notices were issued on accounts of "derogatory and contemptuous speeches/statements" with regard to the honourable court.