Last Updated On 19 January,2018 10:52 pm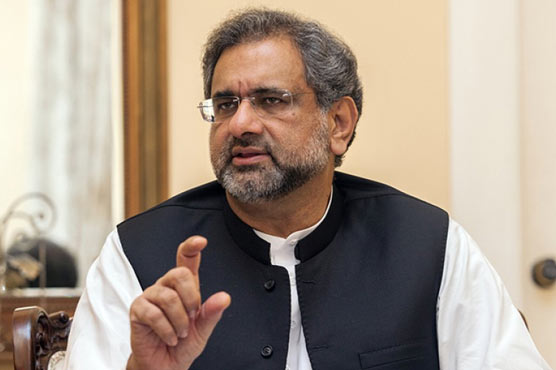 He told that no countries other than Pakistan wanted peace in Afghanistan the most
ISLAMABAD (APP) -- Prime Minister Shahid Khaqan Abbasi told that the policy of the United States (US) was not based on facts, adding that complete bilateral cooperation was going on for war against terrorism.
He commented on the Pak-US ties saying Pakistan had very clear stance that had been conveyed to the US from every platform since the beginning.
"No country wanted peace in Afghanistan more than Pakistan that had been hosting three million refugees and was also ready to facilitate peace dialogue," he recalled.
the prime minister said such words had breached the parliament's privilege that had the power to summon the perpetrators.
On Wednesday, while addressing a protest gathering in Lahore, Pakistan Tehreek-e-Insaf chief Imran Khan and Awami Muslim League chief Sheikh Rashid Ahmed had cursed the parliament, inviting the ire of the parliament as well as the public.
The prime minister said they, being the members of the parliament and leaders of political parties, had in fact cursed themselves. He said those who were trying to justify such words citing unsatisfactory parliamentary performance had not in fact understood the parliamentary system.
He said almost 90 percent of the parliamentary work was carried out by the standing committees, not the Houses.
Regarding the case of Zainab, a raped and murdered minor girl of Kasur, the prime minister said Punjab Police were exploiting all out resources and hoped that the culprit would be arrested till tomorrow as some DNA clue had been found.
He said the whole Punjab administration was very much on the case and had also carried out door-to-door search to nab the culprit who, according to the DNA samples, seemed to be a serial killer.
To a question about the killing of protesters against Zainab tragedy, the prime minister said it was yet to be ascertained as why the police opened fire.
He said neither the government has put Tahirul Qadri on exit control list (ECL), nor has any such consideration until a court orders so, or the investigating agencies require the same.
Regarding Axact fake degrees scandal, the prime minister said it was a unique case and cyber crime was very difficult to be established.
To a question, the prime minister said the current government had carried out record development projects which had no precedent in history.
He said the incumbent government had the mandate till June 1, 2018. The government could only be removed through two methods either through vote of no confidence, or if the prime minister dissolved the parliament.
Regarding difference between PML-N leaders Pervaiz Rashid and Chaudhry Nisar Ali, the prime minister said the intra-party differences were nothing new and the members in the PML-N enjoyed freedom of speech.
Asked about PML-N future political strategy, the prime minister said about the PML-N's next candidate for premiership would be decided by the central executive committee after the party obtained majority in next elections.