'Blood of martyrs' gathered all parties under one roof, Tahirul Qadri addresses APC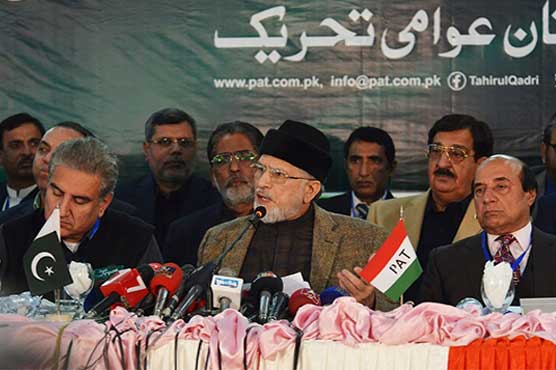 'Sharifia' kingdom will have to end now as it is contrary to Pakistan sovereignty, Qadri commented.
LAHORE (Dunya News) – Pakistan Awami Tehreek (PAT) Chairman Dr Tahirul Qadri has on Saturday said while addressing the All Parties Conference (APC) that the blood of Model Town incident martyrs have today (Saturday) gathered all parties under one roof despite political differences.
Tahirul Qadri, while bashing ousted premier Nawaz Sharif, said he brought the culture of buying people in Pakistan's politics and vowed that Sharif will not be allowed to demolish the institutions.
PAT chief said Nawaz Sharif openly started giving bribes to Members National Assembly (MNAs) in military dictator Zia-ul-Haq's era. He alleged that former prime minister bought people in Sindh, Khyber Pakhtunkhwa (KP) and Balochistan by paying cash, and fought 1988 elections by non-democratic and illegal means.
Tahirul Qadri termed Pakistan Muslim League-Nawaz (PML-N) spokespersons such chicks that were not even hatched at that time. He said Nawaz is the founder of Changa Manga culture whose role has never been democratic.
Mentioning Nawaz's frequently asked question that why was he disqualified, Qadri said his own lifelong wrongdoings have led him to ouster.
He reiterated that people were massacred in Model Town even before the start of the movement that was peaceful. The blood of martyrs unveiled Nawaz's true face in the form of Panama Papers case in which the Supreme Court (SC) of Pakistan declared him liar and dishonest.
---
Read: Remaining silent against injustice is oppression itself, says Kamal
---
He affirmed that if a sit-in is staged this time, it will be the end of the incumbent government. 'Sharifia' kingdom will have to end now as it is contrary to Pakistan sovereignty, Qadri commented.
Tahirul Qadri said Punjab Chief Minister (CM) Shehbaz Sharif, Law Minister Rana Sanaullah and other responsible persons will not be spared at any cost, and demanded their resignations.
It is worth mentioning here that Pakistan Awami Tehreek arranged the All Parties Conference to formulate a joint strategy against the government on the issue of Model Town tragedy.
Opposition parties including Pakistan People's Party (PPP), Pakistan Tehreek-e-Insaf (PTI), Pakistan Muslim League-Quaid (PML-Q), Awami Muslim League (AML), Pak Sarzameen Party (PSP), Sunni Ittehad Council, Sunni Ittehad Council, Majlis-e-Wehdatul Muslimeen (MWM) and Ulema Mashaikh Council are attending the meeting.
---
Explore: Zardari calls on PAT chief in Lahore, endorses Model Town massacre stance
---
The APC began with the inaugural speech of PAT chief Dr Tahirul Qadri. A joint declaration will be issued with the consensus of all parties at the conclusion of the APC.
The agenda of the APC is to demand the government to take action against the responsible officials involved in the Model Town massacre in the light of Justice Baqir Najfi commission report.
All leadership of the opposition, including former president Asif Ali Zardari and PTI chief Imran Khan, has supported the demands of the PAT chief Dr Tahirul Qadri.