PAT wanted Rs 100m compensation for Model Town victims in foreign bank account, claims Sanaullah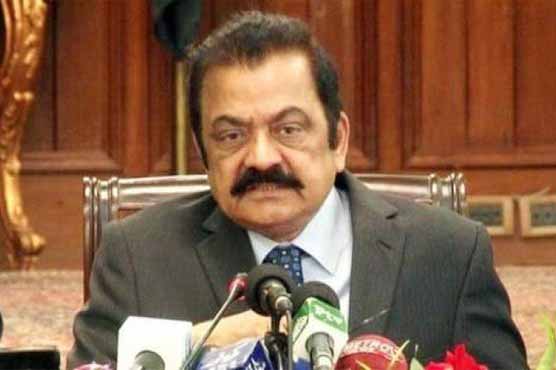 Sanaullah said that the talks ended as the government wanted to pay the victims directly.
LAHORE (Dunya News) – Punjab law minister Rana Sanaullah has claimed on Friday that Government of Punjab offered to pay ex-gratia amount of Rs 100 million to victims of Model Town incident but the talks ended as Pakistan Awami Tehreek (PAT) wanted the government to transfer the money in foreign bank account and not give directly to the survivors.
In a startling revelation made during a Dunya News programme, the law minister asserted that PAT was offered compensation amount for the victims but the talks ended as the money was demanded to be paid to the party and not the victims directly.
Sanaullah alleged that the all parties conference called by Dr Qadri aims at conducting politics over lives lost and not to provide justice to the bereaved families of the 14 victims.
Khurram Nawaz Gandapur, a leader of PAT has rejected law minister's allegation and said that the government is resorting to false accusations to malign the political front.
At least 14 locals had lost their lives on July 17, 2014 in Model Town area of Lahore as Punjab Police resorted to firing and use of force against PAT workers in bid to clear barriers.
It should be noted that police moved to clear the barriers against court s order.
A commission headed Justice Baqar Najfi probed the massacre, a report of which was released last month after a period of three years on order of Lahore High Court (LHC).
The report contained some damning remarks for the top brass of Government of Punjab.
In the following days, Dr Qadri alerted workers of the political front for a protest call that could be given anytime against the government.
---
Sanaullah on Saad Rafique's statement and army's reaction
---
Rana Sanaullah said earlier in the day today railways minister Khawaja Saad Rafique did not mouth any statement concerning Pakistan Army.
Sanaullah addressed a media conference in Lahore today and complained that certain politicians are attempting to create anarchic situation in Punjab province. He said that some 'hunters' are using Pakistan Awami Tehreek (PAT) chief Dr Tahirul Qadri's shoulder for their vested interests.
The provincial minister said that Dr Qadri's stance for the past three years was that Justice Baqar Najfi's report be made public and the demand has been met. He alleged certain lawmakers of conducting politics over the lives lost in Model Town incident.
The law minister asserted that General Elections and Senate polls are to be held on due time.
Sanaullah claimed that certain lawmakers aim to contest elections by putting Dr Qadri atop a stage as face of an anti-govt protest.
The law minister asserted that disqualified premier Nawaz Sharif's ousting has not affected his popularity among the people. Forces are resorting to ill-tactics fearing that Nawaz Sharif would again get elected in General Elections 2018.