Ahsan Iqbal asks PAT chief to follow court hearings in cases against him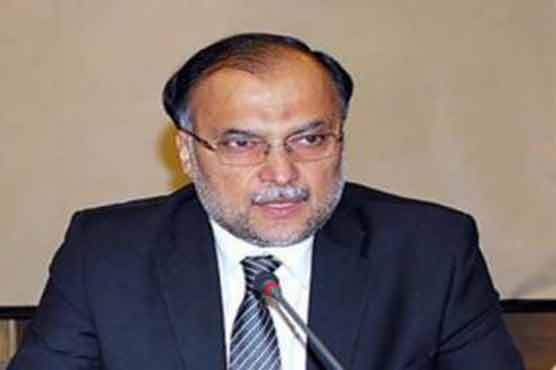 Dr Qadri will brand any action against him a revenge if law takes its course: interior minister
ISLAMABAD (Dunya News) – Interior minister Ahsan Iqbal has warned Pakistan Awami Tehreek (PAT) chief Dr Tahirul Qadri on Tuesday to appear for his court cases' hearings otherwise he would brand action against him as revenge.
Iqbal conversed with the media in the federal capital and demanded the PAT chief to meet legal requirements off him in court cases otherwise law would take its course and he would not like it.
Interior minister's warning has come in the day when PAT chief addressed a joint press conference with Pakistan Tehreek-e-Insaf (PTI) chief Imran Khan who announced to participate in all parties conference led by Dr Qadri on Model Town massacre.
PAT chief had announced earlier this month to launch protests against ruling Pakistan Muslim League-Nawaz (PML-N) over Model Town massacre.
He also had called an all parties conference on December 28 to bring political parties on same page over Model Town tragedy however, it was pushed to December 30.
PTI chairman Imran Khan announced today to participate in the conference while Pak Sarzameen Party (PSP) chief Mustafa Kamal has agreed as well.