Last Updated On 18 December,2017 07:02 pm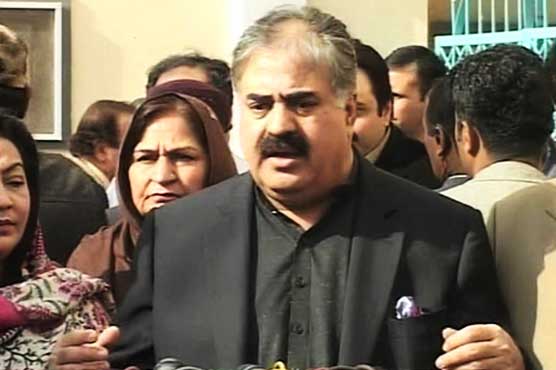 Will make Balochistan a peaceful province, the CM pledged.
QUETTA (Dunya News) – Chief Minister of Balochistan (CM) Nawab Sanaullah Khan Zehri on Monday has announced to give Rs1 million each to martyrs and Rs0.5 million each to injured people of Quetta church attack that killed nine people.

Talking to media, Sanaullah Zehri lauded security officers for timely action against the terrorists. He said that if militants had managed to enter the Bethel Memorial Methodist Church then the causalities would have escalated as 400 people were present in the worship place.
He said that police killed one terrorist at the gate while the other one exploded himself. Eradicating terrorism is the responsibility of police department, he added.
The minister said training programs are being launched to strengthen police and that there is a need to boost morale of the forces in order to get fruitful outcomes. We are not afraid of terrorists and their networks, he continued.
Will make Balochistan a peaceful province, the CM pledged.
Zehri also announced to give Rs1.5 million to the police officers who bravely fought against the terrorists while he also assured to recommend the name of the guard, who diverted attackers' attention ahead of the mishap, for president award.

Meanwhile, a case against the attack has been registered whereas the lawyers have also boycotted the judicial proceedings and hoisted black flag on the court rooms.

Earlier, at least nine people, including two women, were killed and 57 sustained injuries when suicide bombers attacked Bethel Memorial Methodist Church located on Quetta's Zarghoon Road.
An explosion took place initially and was followed by a gunfight. Police, Frontier Corps personnel, Anti-Terrorism Force (ATF) and Bomb Disposal Squad (BDS) were immediately dispatched to the scene. The area was cordoned off and a search and rescue operation was carried out.
The Home Minister said that at least four militants targeted the church. He told that police intercepted and shot one bomber outside but the second attacker managed to reach the church's main door where he blew himself up. Two others fled the scene as the personnel tightened noose on them. However; none of them succeeded in entering the church building.
The minister said about 250 people usually attend the church on Sundays, but attendance had swelled because it was close to Christmas.
In 2016, Lahore suffered one of Pakistan's deadliest attacks during the Easter season -- a suicide bomb in a park that killed more than 70 people including many children.
Balochistan, bordering Iran and Afghanistan, is the largest of the country's four provinces but its roughly seven million inhabitants have long argued they do not get a fair share of its vast gas and mineral wealth.
Efforts to promote peace and development have reduced the violence considerably in recent years.