Last Updated On 18 December,2017 10:19 am
Balochistan Home Minister Sarfaraz Bugti has confirmed that the church was the target of militants.
QUETTA (Dunya News) – Atleast nine people, including two women, were killed and 57 sustained injuries on Sunday when suicide bombers attacked Bethel Memorial Methodist Church located on Quetta's Zarghoon Road.
According to details, an explosion took place intially and was followed by a gunfifght. Police, Frontier Corps personnel, Anti-Terrorism Force (ATF) and Bomb Disposal Squad (BDS) were immediately dispatched to the scene. The area was cordoned off and a search and rescue operation was carried out.
---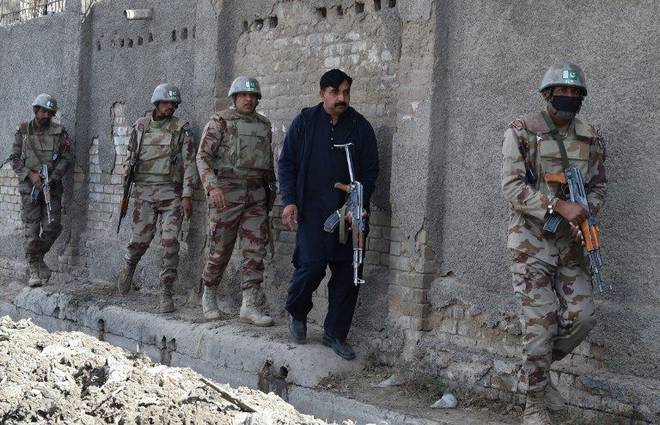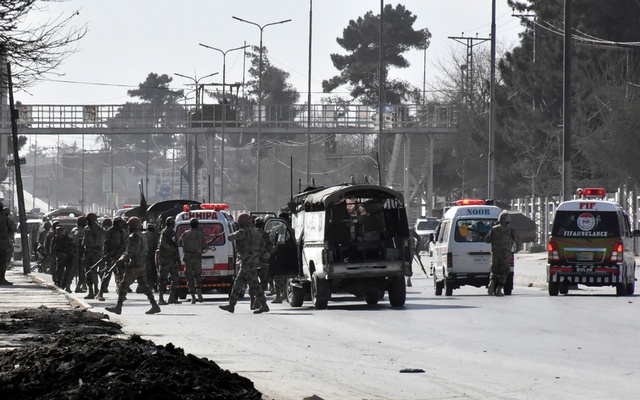 Pakistani security personnel take position after suicide bombers attack a Methodist church in Quetta. --- AFP / Reuters

---
An emergency was imposed in all the hospitals of the city. Rescue teams also arrived at the location and transported the injured to Civil Hospital Quetta.
An AFP reporter at the scene saw shattered pews, shoes and broken musical instruments littered across the blood-smeared floor of the church.
---
Sarfaraz Bugti confirms attack on church
---
Inspector General of Balochistan Police Moazzam Jah Ansari gave the toll, which was confirmed by Balochistan Home Minister Sarfraz Bugti.
---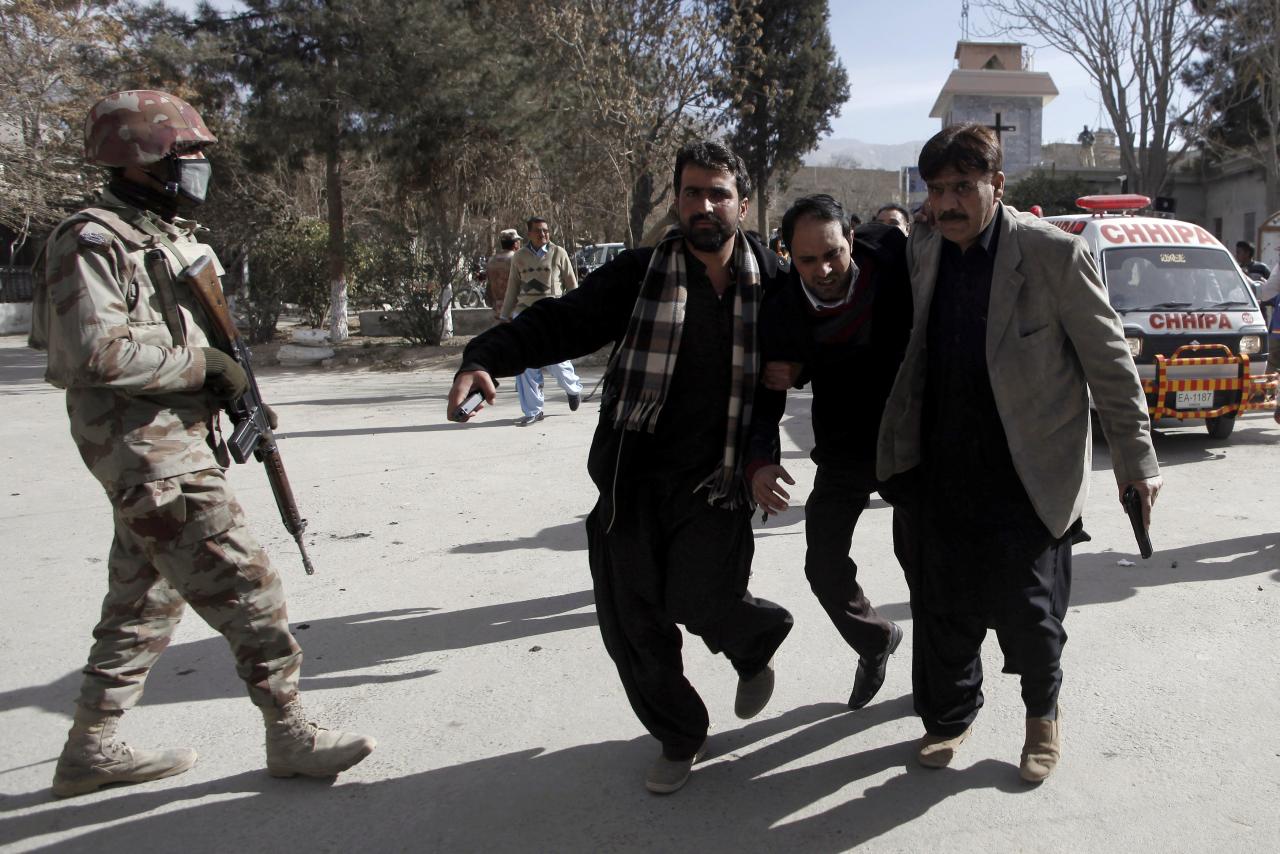 Plain-clothed security officers help an injured man after gunmen attacked the Bethel Memorial Methodist Church in Quetta. --- Reuters
---
IG Ansari said that police personnel assigned for the security of church reacted vigilantly and averted a larger loss. "Police were quick to react and stop the attackers from entering into the main hall," provincial police chief Moazzam Jah told AFP.
The Home Minister said that at least four militants targeted the church. He told that police intercepted and shot one bomber outside but the second attacker managed to reach the church's main door where he blew himself up. Two others fled the scene as the personnel tightened noose on them. However; none of them succeeded in entering the church building.
Senior police official Abdul Razzaq Cheema said investigators were analysing CCTV footage to check the claim and had launched a search for any further suspects.
---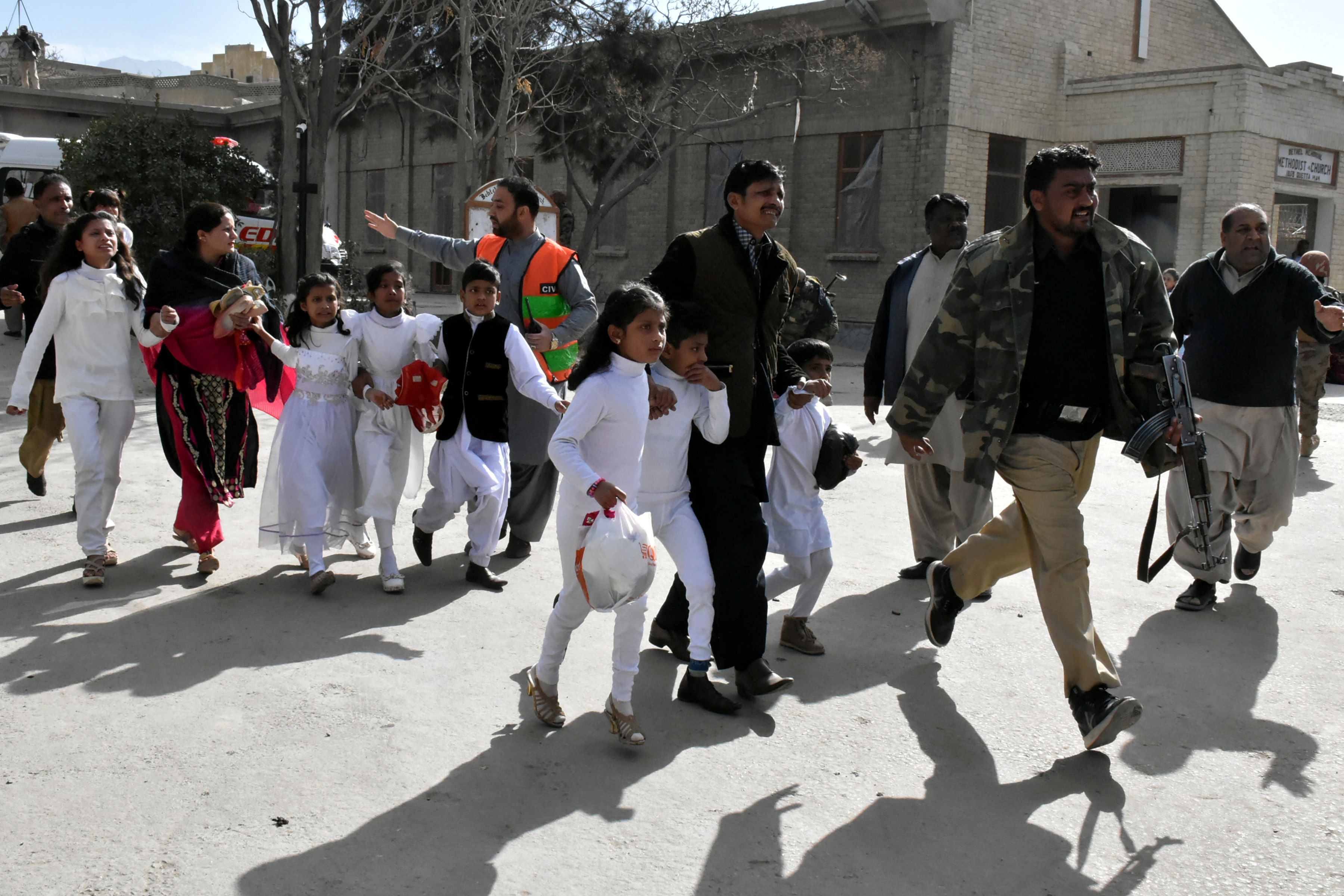 Security personnel move children, women to safety. --- Reuters
---
The minister said about 250 people usually attend the church on Sundays, but attendance had swelled because it was close to Christmas.
By the grace of Almighty, 02 Suicide Bombers stopped on entrance of Church in #Quetta. LEAs took 16 mins to complete the op. CCPO & DC #Quetta along with IG Police #Balochistan lead the operation from forefront.

— Sarfraz Bugti (@PakSarfrazbugti) December 17, 2017
God Forbid, if the terrorists had succeeded in their plans more than 400 precious lives would have been at stake.

— Sarfraz Bugti (@PakSarfrazbugti) December 17, 2017
Till the safe haven of terrorists prevail in #Afghanistan, menace of terrorism shall continue to plague #Balochistan, #Pakistan

— Sarfraz Bugti (@PakSarfrazbugti) December 17, 2017
The premises of the chruch has been declared 'clear' by the security forces while search operation is still underway in the surrounding areas, added Bugti.
Each attacker was carrying 15 kilograms (33 pounds) of explosive plus grenades, said civil defence official Aslam Tareen.
---
A man walks in the main hall of a church following a suicide attack in Quetta. --- AP
---
Devastated
---
A large number of people, majority of them women and children, were present in the church for the Sunday services at the time of blast. A female eye-witness said that at least 400 people were present inside the church.
Liaqat Masih, a member of the congregation, said he was heartbroken by the violence and feared for his life as the firefight erupted between one attacker and police, who were later reinforced by paramilitaries and regular troops.
"I am devastated to see many of our dear ones dead and wounded today here in front of me," said Masih, 35.
Following the latest attack, dozens of Christians protested in the northwestern city of Peshawar and called on officials to protect religious minorities.
In 2013, 82 people were killed when suicide bombers targeted a church in the city. And last year, Lahore suffered one of Pakistan s deadliest attacks during the Easter season -- a suicide bomb in a park that killed more than 70 people including many children.
Balochistan, bordering Iran and Afghanistan, is the largest of the country's four provinces but its roughly seven million inhabitants have long argued they do not get a fair share of its vast gas and mineral wealth.
---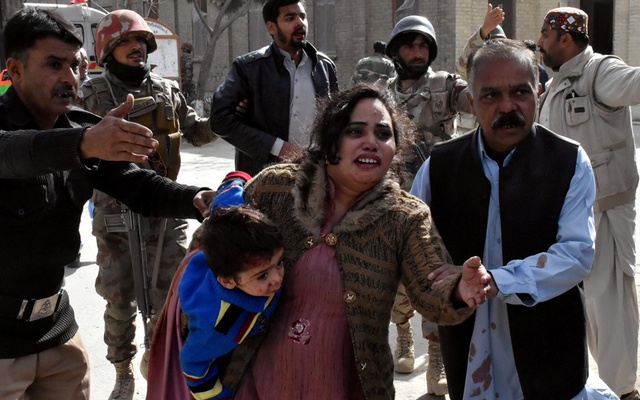 A policeman guides a family after after gunmen attacked the Bethel Memorial Methodist Church in Quetta. --- Reuters

---
Efforts to promote peace and development have reduced the violence considerably in recent years.
The push includes ongoing work on a mammoth Chinese infrastructure project -- the China-Pakistan Economic Corridor -- which will provide Beijing with a modern-day Silk Road to the Arabian Sea through Balochistan's deep-sea port of Gwadar.
--- with inputs from AFP.