Sheikhupura built on my name: Sheikh Rasheed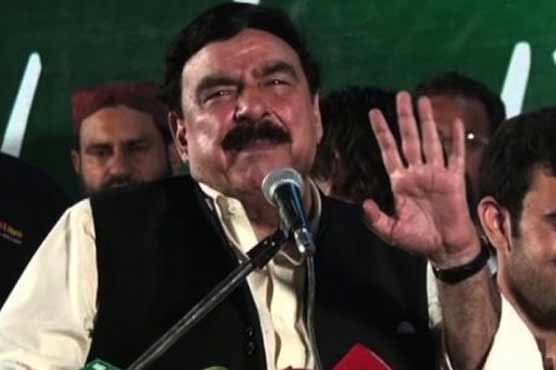 Sheikh Rasheed took PML-N by storm in PTI procession in Sheikhupura
SHEIKHUPURA/LAHORE (Dunya News) – Awami Muslim League (AML) leader Sheikh Rasheed has made another shocking claim and said that Sheikhupura is actually built on his name.
Speaking in PTI's procession in Sheikhupura, Sheikh Rasheed thanked the people for cheering for change and claimed that Nawaz Sharif's time is up and the future belongs to Imran Khan.
He went on further and said that they plan to hit the last nail in the 'PML-N politics' coffin' from December 11 to 11 march.
"Pakistan has been stuck in the quagmire of corruption and injustice since its creation due to corrupt and tyrant leaders but this plight will exist no longer once corrupt political leaderships are ousted," Rasheed added.
Earlier on Sunday, Awami Muslim League (AML) leader Sheikh Rasheedd Ahmed called on Pakistan Awami Tehreek (PAT) chief Dr Tahirul Qadri.
During the meeting, PAT leader took Sheikh Rasheed into confidence over Justice Baqir Najafi's report on the Model Town incident. AML chief while expressing solidarity with Tahirul Qadri announced full support to his party in the matter.
Talking to media after the meeting, Sheikh Rasheed said that Sharif family's politics will end forever as everyone will be evicted from government before March 30. He maaitained that all tha parties are united over minus Nawaz Sharif.
Both the leaders reiterated demand for the resignations of Punjab Chief Minister Shahbaz Sharif and provincial Law Minister Rana Sanaullah.