Last Updated On 09 December,2017 09:11 pm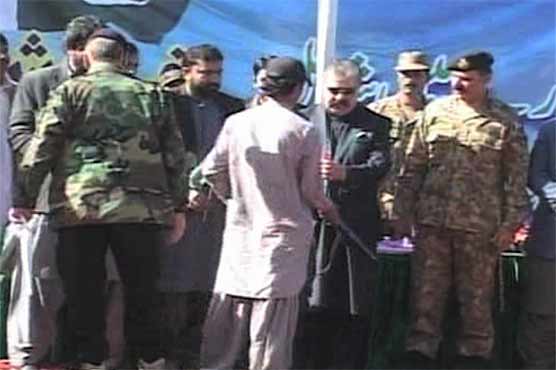 17 commanders were also included among militants who have surrendered
QUETTA (Dunya News) – 313 rebel militants formerly belonging to banned organizations have surrendered before the state on Saturday. Seventeen of those who have surrendered were commanders in the banned rebel outfits.
The rebel militants belonged to outfits such as Balochistan Republic Army (BRA), Balochistan Liberation Front (BLF) and Balochistan Liberation Army (BLA).
The rebels surrendered in a ceremony attended by Balochistan CM Nawab Sanaullah Zehri and pledged loyalty to Pakistan.
Speaking on the ceremonial occasion, Balochistan CM said that innocent and uninformed youth is used by those who wish to drive the state into division but truth always prevails adding that 1800 rebels have surrendered so far and have come back in the arms of the motherland.
The ceremony was also attended by Lieutenant General Asim Bajwa, FC's Major General Nadeem Anjum, Provincial Interior Minister Sarfaraz Bugti and various members of the assembly.

Checks were also distributed among the former rebels to permeate them to build homes and settle.