Will follow suit if PAT resorts to street agitation: Imran Khan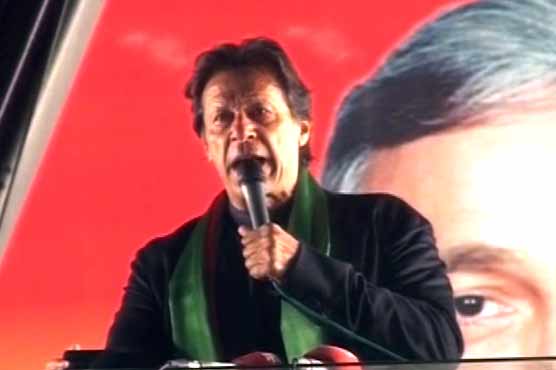 Imran Khan addressed a public rally in Jaranwala town of Faisalabad district today.
JARANWALA (Dunya News) – Pakistan Tehreek-e-Insaf (PTI) chief Imran Khan has announced on Friday to support Pakistan Awami Tehreek (PAT) in its struggle against the incumbent government to get perpetrators of Model Town tragedy to justice.
PTI chief addressed a rally in Jaranwala today and in his speech, he said that the political party stands with PAT chief Dr Tahirul Qadri until he is granted justice in the tragic Model Town incident of June, 2014.
Khan vowed to resort to street agitation and lodge protests if Dr Qadri decides to get victimised families of the tragedy justice.
PTI chief alleged former first family of Pakistan and Punjab chief minister (CM) Shehbaz Sharif for ordering murders of 14 people in Model Town over three years ago during clashes of Punjab Police with PAT workers.
Khan further claimed that the political party would pursue action against Sharif brothers until they are sent to Adiala Jail.
Statement of PTI chief has come in two days after Dr Qadri alerted workers of PAT to remain vigilant for a protest call and prepare to launch protests. Dr Qadri had addressed a press conference in Lahore earlier this week after Lahore High Court (LHC) ordered Punjab government to make inquiry report of the incident public which was held over three years ago.
CM Shehbaz-led Punjab government released the report the day of the order which was compiled by Justice Ali Baqar Najafi.