Last Updated On 05 December,2017 07:42 pm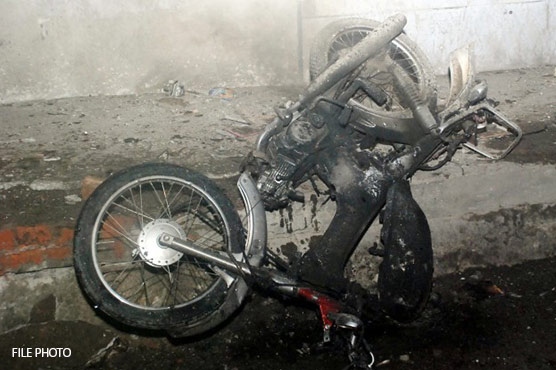 Reportedly, an army vehicle was carrying three candidates for recruitment when the bomb went off.
MIRANSHAH (Dunya News) – A terror blast in Mir Ali area of Federally Administered Tribal Areas (FATA) province has left at least six persons killed and eight injured as a miliary vehicle was targeted on Tuesday.
According to the details, a bomb was planted in a motorcycle that was parked along the road as an army vehicle was targeted today days after at least nine persons were killed in Agricultural Directorate attack.
Reportedly, an army vehicle was carrying three candidates for recruitment when the bomb went off.
Earlier last week, at least nine were killed with 38 injured as five burqa-clad terrorists stormed the building and resorted to intermittent firing. The area was cleared by the security force after the operation while those injured are undergoing medical treatment.
"The casualties came from a bomb planted in a motorcycle parked on a roadside in Khadi market of Mir Ali town," Kamran Khan Afridi, a senior administration official in the area, told AFP.
"The blast targeted two vehicles passing along the road. Six people who died and eight who were injured are believed to be the vehicles passengers," he said.
Local government and security officials also confirmed the attack and casualties.
Mir Ali town and neighbouring Miranshah, North Waziristan s capital, have long been home to Taliban militants.
Although violence in Pakistan has declined in recent years following a series of military offensives against insurgents along the northwestern border, militant groups are still able to carry out bloody attacks.
In a number of assaults in recent weeks, militants have killed several people in the northwest as well as in southwestern Balochistan province.
This latest wave of attacks came as hundreds of people displaced from their homes during the offensives in North Waziristan prepared to return, after the military declared the region safe.
---
With inputs from AFP.