Last Updated On 27 November,2017 10:57 am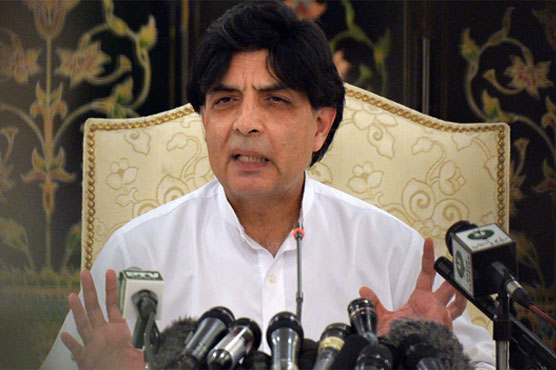 Ahsan Iqbal has refused to provide a response over Nisar's statements.
ISLAMABAD (Dunya News) - Former Interior Minister Chaudhry Nisar Ali Khan on Monday has denied any death during attack at his residence.
During an interview, Ahsan Iqbal has said that the killings during Faizabad operation occurred in an attack by the protesters on Chaudhry Nisar's residence. He asserted that Islamabad Inspector General and Chief Commissioner were monitoring the operation.
While criticizing the current interior minister, Chaudhry Nisar said that Ahsan Iqbal should refrain from giving such irrelevant statements to hide his incompetence.
Nisar said that those who claimed to end the sit-in in three hours are now leveling the burden of operation on the court.
He termed it 'unfortunate' unfortunate that the interior minister of the country is much ignorant and irresponsible.
"The requirement of Ahsan Iqbal's post was that he should have stood with the administration instead of making excuses over the operation," said Nisar.
On the contrary, Ahsan Iqbal has refused to provide a response over Nisar's statements by saying that the former interior minister is senior to him therefore he will not comment anything.
It was reported on Sunday that at least one person was killed in a firing incident outside the residence Chaudhry Nisar Ali Khan.
Sources told that unknown persons tried to set alight an armored vehicle outside the residence and broke its windshield. They also broke the gate of Nisar's house.