Last Updated On 24 November,2017 01:03 pm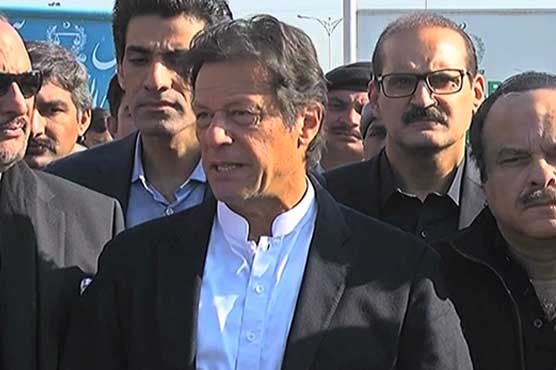 Imran said that comparing him with Nawaz Sharif is humiliating.
ISLAMABAD (Dunya News) – Pakistan Tehreek-e-Insaf (PTI) Chief Imran Khan on Friday has claimed that former Prime Minister Nawaz Sharif can destroy the country and nation for his personal interests.

Talking to media at Anti-Terrorism Court (ATC), Imran said that comparing him with Nawaz Sharif is humiliating as it's like he is being compared with 'Sultana' dacoit.
He also lashed out at PM Shahiq Khaqan Abbasi and said that he and other ministers are supporting an accused, who is facing trial in several corruption cases. Nawaz Sharif is attacking Pakistan's judiciary and army but PTI wants to strengthen the departments, he added.
My sit-in was political as it was carried out to raise the issue of rigging held in 2013 elections, he reiterated.
He also demanded the former premier to provide details of 29 properties worth Rs300 billion.

Earlier today, Khan reappeared before ATC in as many as four cases pertaining to attacks on Senior Superintendent of Police (SSP), Pakistan Television Corporation (PTV) office and Parliament during sit-ins and forcibly releasing the suspects.

ATC judge justice Shahrukh Arjumand conducted hearing of the case during which Imran Khan was directed to cooperate with the investigation officers and record his statements in all four cases. The hearing has been adjourned till December 7.

On November 14, Imran Khan had appeared before Islamabad High Court (IHC) after a time span of one and a half year during which he was granted bail in all four cases.

The court accepted Khan's bail in aforementioned cases over surety bonds of Rs2 lac each and directed him to also submit guarantee of two people in this regard.