Last Updated On 10 November,2017 05:33 pm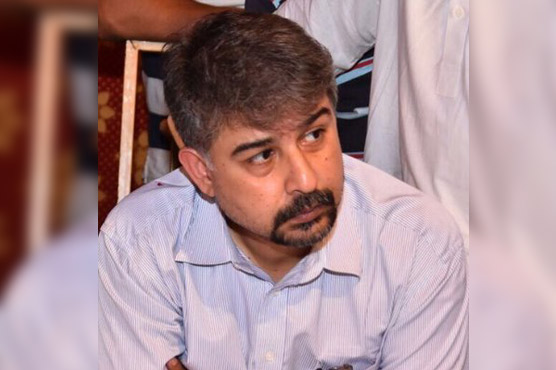 Will resign from NA upon return to Pakistan, contest by-election against Kamal, says Abidi
(Web Desk) – Disgruntled Muttaida Qaumi Movement – Pakistan (MQM-P) leader Syed Ali Raza Abidi has on Thursday announced to contest election against Pak Sarzameen Party (PSP) chief Mustafa Kamal as an independent candidate.
In a tweet, Ali Raza Abidi said that he stood by his earlier decision of resigning from National Assembly seat over the alliance with PSP. He said that 'no merger, not even alliance (like IJI and MMA) with PSP is acceptable for me at all'.
Abidi, who is currently in Karbala, Iraq, said that he will resign from his seat upon return to Pakistan, and contest from the same seat in National Assembly as an independent candidate against PSP's Mustafa Kamal. "May the best win", he said.
I stand by my last statement. No merger, not even alliance (like IJI or MMA) with PSP is acceptable for me at all. I will resign at NA upon return to Pakistan and contest bye-Election against PSP's MK as "Azad" from the same seat. May the best win!

— Syed Ali Raza Abidi (@abidifactor) November 9, 2017
It is pertinent to mention here that Abidi had voiced his dissent yesterday while sitting in Karbala still over MQM-P's alliance with PSP.
Ladies n Gentlemen from the Holy land of Karbala, I announce to quit MQMP n resign from NA251 as this is not what I believed in n stood for.

— Syed Ali Raza Abidi (@abidifactor) November 8, 2017
Abidi is not the only person though to voice his disgruntlement over the alliance/merger. Several PPP leaders have met Pakistan People s Party (PPP) leader Asif Ali Zardari and Dr Junaid, the former provincial minister for health, has already announced joining PPP.
MQM-P Rabita Committee also retreated from their stance last night about the merger with PSP. The meeting was chaired by Kanwar Naveed Jameel in the absence of party chairman Farooq Sattar in a bid to appease disgruntled party members who opposed MQM Pakistan's merger with PSP.
Also read: MQM-P to stay put with same symbol, manifesto: Kanwar Naveed
Talking to media after the meeting, Jameel refuted the reports of merger with Mustafa Kamal's Pak Sarzameen Party (PSP) and told that their party will only form an alliance with the latter for 2018 General Elections.
Explaining the nature of MQMP-PSP alliance, he gave the example of an historical alliance between MMA and IJI in post-Zia era.
He clarified that their alliance with PSP will not be held on the seats which they won in the previous elections. MQM-P Rabita Committee has expressed full support in the leadership of Farooq Sattar, he added.
Refuting the reports that MQM-P leaders are likely to join PPP, he assured that Khushbakht Shujat will stay in the party.