Last Updated On 03 November,2017 03:32 pm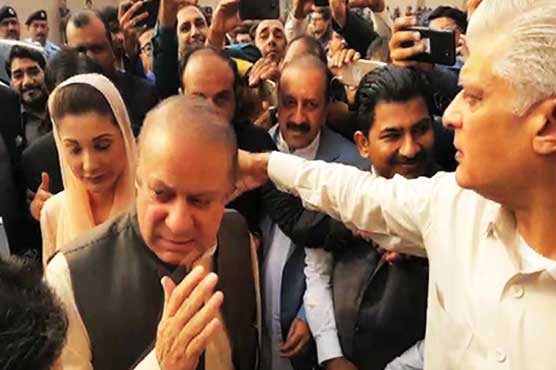 Hearing was suspended till Tuesday to wait for detailed IHC's verdict on merger of references plea.
ISLAMABAD (Dunya News) – The accountability court on Friday has adjourned hearing of National Accountability Bureau (NAB) references against ex-prime minister Nawaz Sharif and his family till Tuesday without any proceeding.

Nawaz Sharif with his daughter Maryam Nawaz and son-in-law Captain (r) Safdar left for Punjab House after their one hour appearance in the court. They also submitted two bonds worth Rs5 million in the court.

Talking to media, Nawaz Sharif said that he is being punished for eradicating terrorism and load shedding in the country. He continued that Pakistan Peoples Party (PPP) co-chairman Asif Ali Zardari is abusing him to make someone else happy. He asserted that Pakistan Muslim League-Nawaz (PML-N) struggled for the freedom of judiciary.

Waiting for detailed decision of Islamabad High Court (IHC) over Nawaz's plea regarding merger of Avenfield properties, Al-Azizia Steel Mills and Flagship Investments references, said Sharif's lawyer. He added that IHC had directed NAB court to rehear Nawaz's plea .

Meanwhile, allies of Sharif, who has served as prime minister twice and was toppled in a military coup in 1999, have called the proceedings a political vendetta.

Sharif returned home on Thursday. He had been in London with his wife who is undergoing cancer treatment.

The Supreme Court disqualified Sharif from office in July over unreported sources of annual income of about $10,000, a salary the former premier denies ever receiving. The high court also ordered the NAB to investigate and conduct a trial into the Sharif family's wider finances, including the London properties.

Sharif maintains control of the ruling Pakistan Muslim League-Nawaz (PML-N) party, which elected close ally Shahid Khaqan Abbasi as prime minister after Sharif was disqualified.