Birthday wishes pour in as Maryam Nawaz turns 44 today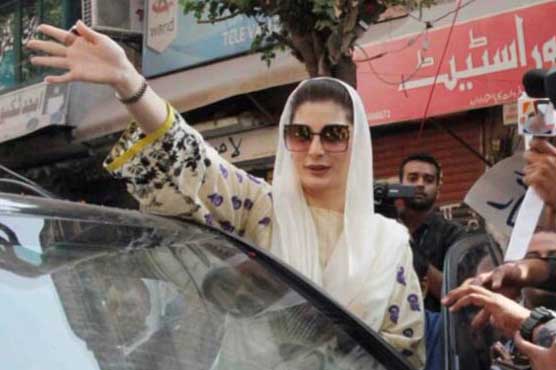 Hashtag #HBDMaryamNawaz is trending top on Twitter in Pakistan.
LAHORE (Dunya News)- Wishes poured in on social media for Maryam Nawaz, daughter of Pakistan Muslim League Nawaz President and former prime minister Nawaz Sharif, as she celebrates her 44th birthday today (Saturday).
Maryam took to microblogging website to share the happy occassion and thanked supporters as well-wishers rallied on Twitter.
Turned 44 today ! https://t.co/SEdcq3eKR3

— Maryam Nawaz Sharif (@MaryamNSharif) October 28, 2017
My heartfelt THANK YOU for your beautiful and heart-touching wishes & prayers on my birthday. Your affection means a lot to me. God bless.

— Maryam Nawaz Sharif (@MaryamNSharif) October 28, 2017
PMLN leaders including Hina Butt also felicitated Maryam.
There are so many important things that I've learnt from you but your "patience" must be appreciated . Happy Birthday! @MaryamNSharif pic.twitter.com/VstwXhakaD

— Hina Butt (@hinaparvezbutt) October 27, 2017




Meanwhile, #HBDMaryamNawaz is trending top on Twitter.
Born on 28 October 1973 in Lahore, Maryam was initially involved in the family's philanthropic organisations and served as the chairperson of Sharif Trust, Sharif Medical City and Sharif Education Institutes.
In 2013, she entered politics when made in charge of Nawaz Sharif's election campaign. In 2013, she was appointed as the Chairperson of the Prime Minister's Youth Programme however she resigned in 2014 after her appointment was challenged in the Lahore High Court. She is seen as the political heir to her father.
Recently, Maryam rang alarm bell for political rivals when she single-handedly guided PMLN to victory in arguably one of the toughest by-poll of country's history in NA-120 constituency.
At present, Maryam is leading ruling party in absence of her father and appearing before accountability court in Panama Papers Case.