Last Updated On 11 October,2017 06:05 pm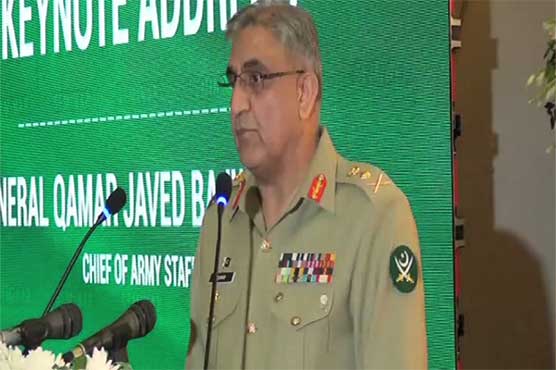 Gen Bajwa said Pakistan is a strategically challenged state, security and economy interlinked
KARACHI (Dunya News) – Chief of General Army Staff (COAS) General Qamar Javed Bajwa stressed on Wednesday that Pakistan is facing several strategic challeneges, adding that the security and economy of the country are interlinked.
Addressing to the seminar titled Interplay of "Economy and Security" in Karachi today, he said external actors are attempting to assert control and dictate our security priorities that have strong linkages with our economic future. "The centrepiece of this effort is China Pakistan Economic Corridor (CPEC) … We have to continuously ensure a viable balance between economy and security," he told the group of government officials and members of business community who were present at large.
Talking about National Action Plan (NAP), he urged to formulate a comprehensive effort to counter threats. If NAP is implemented timely, he said it can "contribute directly to the economic and even political stability of the country". He suggested that the country should have police, judicial and madrassa reforms.
He gave the example of Karachi where security and law enforcement have brought economic stability, assuring to keep the city safe and peaceful for future. "When our enemies want to choke Pakistan, they try to destabilise Karachi because when Karachi bleeds, Pakistan bleeds. It is because of this sensitivity, that peace in Karachi has been our top priority. We have worked very hard to restore peace and now hope that economic activity would return at a fast pace, Insha Allah."
---