Last Updated On 26 September,2017 06:16 pm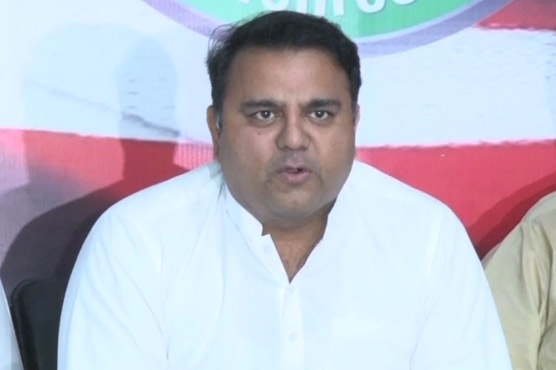 PTI Spokesperson argued ex-PM wouldn't have to ask 'Mujhe Kyu Nikala' if money trail had been provided
LAHORE (Dunya News) – Pakistan Tehreek-e-Insaf (PTI) leader Fawad Chaudhry said Nawaz Sharif made fun of judicial order and it happens to be an unprecedented act.
Addressing to a press conference in the capital, PTI spokesperson argued that the ex-PM wouldn t have to ask Mujhe Kyu Nikala if money trail had been provided. He inquired why the ruling PML-N had declared war on the Supreme Court of Pakistan. "Nawaz Sharif s five and a half minute appearance in NAB court cost millions of rupees to the nation," he claimed.
Fawad Ch told people with such luxury lives cannot bring revolution, adding that he came to accountability court with 45 vehicles and federal ministers. He repeated the allegations of money laundering and tax evasion on Nawaz Sharif and his children. "Face the cases like a man instead of acting like widows," he told ex-PM.
"Nawaz Sharif came back home to save his politics … he was given an opportunity to provide money trail but he wasted it. Courts should not come under his pressure. He raised allegations on the top court."
Talking further, PTI spokesperson asked why the JIT members would conspire against the former premier, adding that there is no comparison between cases of disqualification of Nawaz Sharif and Imran Khan.