Last Updated On 22 September,2017 02:55 pm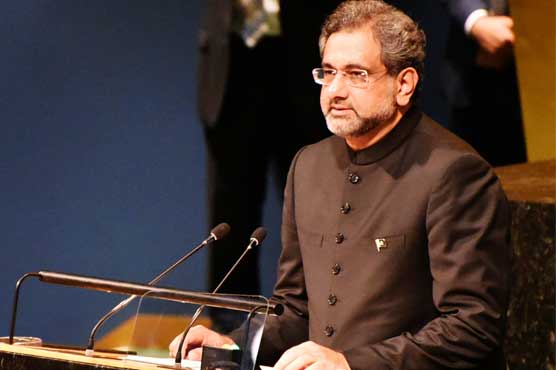 PM Abbasi demanded the implementation of the UN Security Council resolution on Kashmir.
UNITED NATIONS (Dunya News/Agencies) - Addressing the 72th session of the United Nations General Assembly on Thursday, Prime Minister Shahid Khan Abbasi said that the world faces various challenges today including security.
He said that renewed East-West tensions may engulf Europe in another Cold War. Peace and prosperity in Asia is threatened by emerging big power friction and rising tensions in South, East and West Asia.
Abbasi said that the Middle East is wracked by war and violence – in Syria, Iraq, Yemen and elsewhere. Although Daesh appears to have been weakened in Iraq and Syria, terrorist violence has spread and intensified across the Middle East and Africa and other parts of the world.
"There is no end in sight to the tragedy of Palestine. Israel's prolonged occupation and expansion of illegal settlements may lead to renewed and wider violence in the Holy Land," he said.
PM Abbasi said that the ethnic cleansing of Rohingyas is not just an affront to all norms of humanity but also challenges our collective conscience.
Raising the Kashmir issue at the UNGA, PM Abbasi said that the legitimate struggle for self-determination of the people of Jammu and Kashmir continues to be brutally suppressed by India's occupation forces.
"Unfortunately, from day one of its creation, Pakistan has faced unremitting hostility from its eastern neighbor. India refuses to implement the unanimous resolutions of the UN Security Council, which mandate a UN supervised plebiscite to enable the people of Jammu and Kashmir to freely decide their destiny," he said.
"Instead India has deployed nearly 700,000 troops in Occupied Kashmir to suppress the legitimate struggle of the Kashmiris to exercise their right to self-determination. This is the most intense foreign military occupation in recent history," PM Abbasi said.
He further said that as in the past, today the Kashmiri people are waging a heroic and popular struggle to rid themselves of India's oppressive rule. They come out in the streets daily to call on India to leave Jammu and Kashmir.
The Prime Minister said that India has responded with massive and indiscriminate force to suppress the Kashmiris, shooting indiscriminately at children, women and youth. Hundreds of innocent Kashmiris have been killed or injured. Shotgun pellets have blinded and maimed thousands of Kashmiris including children. These and other brutalities clearly constitute war crimes and violate the Geneva Conventions.
He said that Pakistan demands an international investigation into India's crimes in Occupied Kashmir. We ask that the United Nations Secretary-General and the High Commissioner for Human Rights send an inquiry Commission to Occupied Kashmir to verify the nature and extent of India's human rights violations, secure the punishment of those responsible, and provide justice and relief to the victims.
He further said that Pakistan also urges the international community to call on India to: halt pellet gun attacks and other violence against unarmed demonstrators; stop the use of rape as an instrument of state policy; end media blackouts; rescind its draconian emergency laws; and free all Kashmiri political leaders.
PM Abbasi said that India frequently violates the ceasefire along the Line of Control in Kashmir to divert the world's attention from its brutalities. Despite over 600 violations since January this year Pakistan has acted with restraint. But if India does venture across the LoC, or acts upon its doctrine of "limited" war against Pakistan, it will evoke a strong and matching response.
He said that the international community must act decisively to prevent the situation from a dangerous escalation.
"The Kashmir dispute should be resolved justly, peacefully and expeditiously. As India is unwilling to resume the peace process with Pakistan, we call on the Security Council to fulfil its obligation to secure the implementation of its own resolutions on Jammu and Kashmir," Abbasi said.
He said that Pakistan remains open to resuming a comprehensive dialogue with India to address all outstanding issues, especially Jammu and Kashmir, and discuss measures to maintain peace and security. This dialogue must be accompanied by an end to India's campaign of subversion and state-sponsored terrorism against Pakistan, including from across our western border.
The prime minister said that apart from the people of Afghanistan, Pakistan and its people have suffered the most from four decades of foreign intervention and civil wars in Afghanistan.
These wars have blighted our country with the flow of extremists and terrorists, guns and drugs as well as an influx of millions of refugees. They have set back our economic development by decades. Even today, Pakistan is host to over 3 million Afghan refugees. No one desires peace in Afghanistan more than Pakistan, he said.
From 16 years of the ongoing war in Afghanistan, it is clear that peace will not be restored by the continuing resort to military force. Neither Kabul and the Coalition, nor the Afghan Taliban, can impose a military solution on each other. The international community – as expressed in several United Nations resolutions – has concluded that peace can be restored in Afghanistan only through a negotiated settlement.
He said that having suffered and sacrificed so much due to our role in the global counter-terrorism campaign it is especially galling for Pakistan to be blamed for the military or political stalemate in Afghanistan. We are not prepared to be anyone's scapegoat. Taliban "safe havens" are located not in Pakistan but in the large tracts of territory controlled by the Taliban in Afghanistan.
"Yes, cross border attacks do occur. These are mostly conducted by anti-Pakistan terrorists from "safe havens" across the border. To end all cross border attacks we ask the Afghan government and the Coalition to support and complement Pakistan's ongoing efforts to strengthen border controls and monitor all movement across it," he said.
"What Pakistan is not prepared to do is to fight the Afghan war on Pakistan's soil. Nor can we endorse any failed strategy that will prolong and intensify the suffering of the people of Afghanistan and Pakistan and other regional countries," PM Abbasi said.
Prime Minister said that Pakistan's counter-terrorism credentials cannot be questioned. After 9/11 it was Pakistani efforts that enabled the decimation of Al-Qaeda. Pakistan's military campaigns have succeeded in clearing our tribal areas of almost all militant groups.
PM Abbasi said that we took the war to the terrorists. We have paid a heavy price. Over 27,000 Pakistanis including 6,500 military and law enforcement personnel have been martyred by terrorists. 50,000 Pakistani nationals have been injured, including 15,000 army personnel, many of whom have lost their limbs.
He said that we have fought the war against terror with our own resources. Pakistan's economic losses are estimated at over $120 billion. Yet, we remain committed to fully implementing our National Action Plan against terrorism and extremism. Defeating terrorist violence is vital to realize our overriding priority of rapid economic and social development.
---
VIDEO: