Pakistan's nuclear arsenals in safe hands: PM Abbasi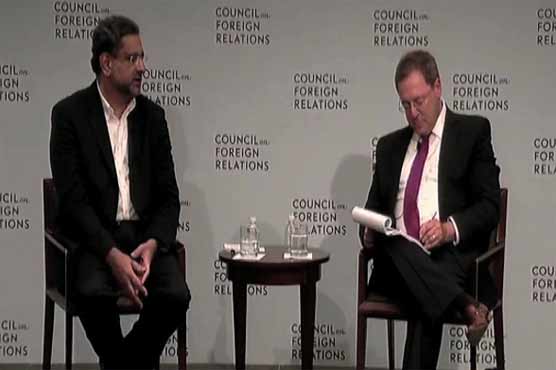 PM Abbasi on Wednesday said that Pakistan's nuclear arsenals being safe and secure.
NEW YORK (Dunya News) - Prime Minister Shahid Khaqan Abbasi while talking to media at Council on Foreign Relations (CFR) on the sidelines of the 72nd session of the UN General Assembly on Wednesday said that Pakistan s nuclear arsenals being safe and secure.
"We have a very robust and secure command-and-control system over our strategic nuclear assets. Time has proved that it s a process that is very secure. It s a process that has complete civilian oversight through the NCA," Abbasi said.
The Nuclear Command Authority (NCA) of Pakistan is the authority responsible for command, control and operational decisions regarding the country s nuclear arsenals.
Prime Minister Shahid Khaqan Abbasi said on that Pakistan has developed short-range nuclear weapons to counter the cold start doctrine adopted by the Indian Army. Abbasi was also assertive of Pakistan s nuclear arsenals being safe and secure.
Abbasi said that the command-and-control systems they have in place are as secure as anybody else s in the world. "The last 20 years are testament to that," Abbasi said in response to another question.
"So let there be no doubt that any extremist element or somebody like that can gain control of fissile material or a nuclear weapon. There is just no possibility of that. And it s time-tested, and it s a very secure system that has been put in place," he said.
"Pakistan is a responsible global citizen, and we ve shown a responsibility on the ground with this huge war on terror that we ve been fighting for the last 15 years," Abbasi said.
Prime Minister Abbasi also demanded the implementation of the UN Security Council resolution on Kashmir, asserting that his country will continue supporting the right to self-determination in Jammu and Kashmir.
Identifying Kashmir as the core issue with its eastern neighbour, Abbasi exuded confidence that the resolution will help address the contentious issue.
"I think the basic issue is Kashmir. The implementation of the Security Council resolution will be a great starting point that will help address each other's concerns and provide peace to the region and between Pakistan and India. That's the core issue between the two countries," Abbasi said.