Last Updated On 16 September,2017 08:23 pm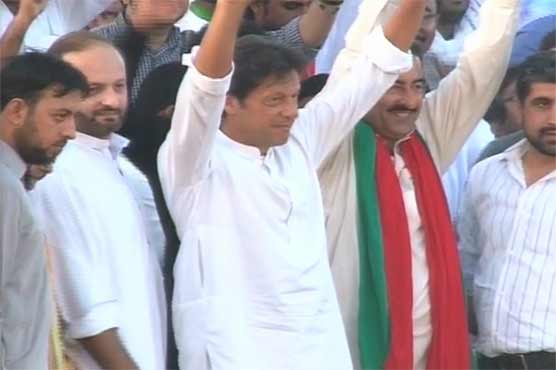 PTI chief stressed that a corrupt leader makes the country bankrupt
KHUSHAB (Dunya News) – Pakistan Tehreek-e-Insaf (PTI) Chairman Imran Khan believes that his candidate for the NA-120 by-poll, Yasmin Rashid, will easily win the election against PML-N s Kulsoom Nawaz, and they will celebrate her victory after the results are announced.
Addressing in Khushab rally, he declared ruling Pakistan Muslim League-Nawaz (PML-N) a corrupt party, stressing that corrupt leaders made the country bankrupt. He teased the ex-PM Nawaz Sharif over his repetitive statement Mujhay Kyun Nikala .
"Corruption makes the reserves hollow. Singapore is ahead of us because they have annual exports of USD 520 billion. It has average income of $50,000 while our (Pakistan s) average income is $1,500. Small group of rulers looted the country," he reasoned.
PTI chairman said in multiple statements that big thieves launder the money outside the country which is why loans are taken. He recalled that Nawaz Sharif s children including Maryam Nawaz had claimed they had no offshore accounts when asked about Panama Leaks. Maryam wouldn t had to lie if the money was earned legally, he added.
Talking about the performance of PML-N, he told the government couldn't make even one hospital despite their rule for the past 30 years. Imran Khan admitted that he is hopeful that people of NA-120 will make the right choice and free the country of dacoits.
He announced to make policies for the poor if given power. PTI chief claimed that poverty decreased by four times in KP as compared to Punjab. "We will bring the just system of taxation," he promised.