Last Updated On 16 September,2017 03:49 pm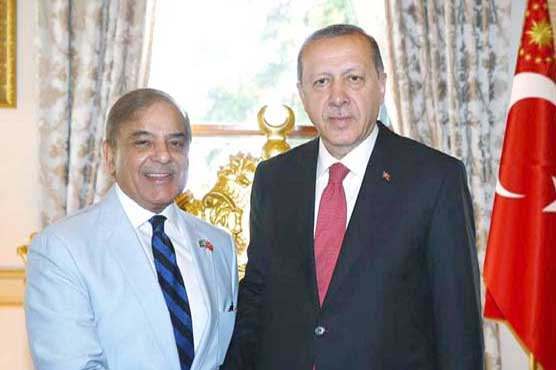 CM Shehbaz called on Turkish President Tayyip Erdogan in Istanbul.
LAHORE (APP) - Punjab Chief Minister Shehbaz Sharif on Friday called on Turkish President Recep Tayyip Erdogan in Istanbul on Friday.
Talking to the Chief Minister Shehbaz Sharif, the Turkish President Recep Tayyip Erdogan said that your visit was a matter of delight and honor for me and I am really happy to meet with my brother again, said a handout issued here.
He said that we want to see Pakistan politically, economically as well as security-wise fully strengthened and added that Turkey will continue its unconditional cooperation with Pakistan".
Whether it's a difficult time or the moment of ease, we are standing with Pakistan. He said that the projects initiated in collaboration with Turkey in the Punjab are vivacious symbols of Pak-Turk friendship. Under your leadership, the journey of development and prosperity of the Punjab was commendable and the efforts of Pakistan government for the provision of energy as well as the eradication of terrorism are worthwhile.
The Turkish President also enquired about the health of Begum Kalsoom Nawaz and prayed that may Almighty Allah recover her soon.
Talking on the occasion, Punjab Chief Minister Shehbaz Sharif said that he was thankful to the Turkish government as well as the President for his warm welcome. The people of Pakistan are proud of their friendship with Turkey, he added.
In recent years, the solid cooperation between the two countries in different sectors has given new dimensions to this friendship; while the future will further boost Pak-Turk friendship. Pakistan and Turkey have always sided with each-
other and they will also be standing side by side in every situation in future, as well.
He said that the projects initiated in cooperation with Turkey in the Punjab province have helped to improve the quality of life of the common man.
The Turkish leadership has set a unique example of public-service with their performance. He said that we are especially thankful to Turkey for its cooperation in waste water treatment, transport and solar energy sectors.
Chief Minister Muhammad Shehbaz Sharif was given warm welcome at Ataturk Airport, Istanbul when he reached there, today. High Turk officials as well as Pakistan's Ambassador to Turkey received the Chief Minister.
Commerce Minister of Turkey Mr. Nihat Zeybekci called on the Chief Minister Shehbaz Sharif and discussed different matters of mutual interest including promotion of Pak-Turk relations and extension in bilateral trade- cooperation.
Chief Minister Shehbaz Sharif performed his Jumma prayer in the Mosque of Ortakoy in Besiktas area of Istanbul and made special prayer for the unity and prosperity of the Muslim Ummah as well as salvation of the Rohingya Muslims from the difficult situation.
Earlier, Chief Minister Shehbaz Sharif left for Turkey in the morning. While talking at the Lahore Airport, Chief Minister said that the bilateral relations between Pakistan and Turkey have entered the new phase of cooperation and both the countries have consensus of opinion on different regional and international issues. He further said that this tour would further strengthen mutual relations between the two countries.