Nawaz Sharif deserves chance of fair trial: lawyer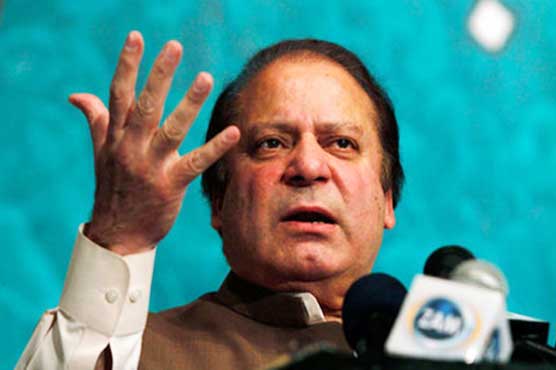 Khawaja Harris said that SC has become complainant in Panamagate case.
ISLAMABAD (Dunya News) – Ex-prime minister Nawaz Sharif's lawyer Khawaja Harris on Wednesday presented his arguments during the hearing of Sharif family's review petitions over Panamagate verdict and said that his client should be given a chance of fair trial.
A five-member larger bench of Supreme Court (SC) comprising Justice Ejaz Afzal Khan, Justice Sheikh Azmat Saeed, Justice Asif Saeed Khosa, Justice Gulzar Ahmed and Justice Ijaz-ul-Ahsan conducted the hearing of the case.
During the proceeding, Justice Ijaz-ul-Ahsan said the decision of April 20 in which two judges ousted Nawaz Sharif and other three ordered to form Joint investigation Team (JIT) was not challenged, which means that it was accepted by your client.
Khawaja Harris said that the two judges, who suggested to disqualify Nawaz Sharif, were in minority and the court accepted verdict of majority.
If the issue will be sent to trial court, then it will return to SC after proper inquiry, he added.
He said that the court should have asked National Accountability Bureau (NAB) to hold investigation as per law, adding the judge who announced the decision was made supervisor.
The lawyer continued that the court appreciated JIT's verdict over which Justice Azmat Saeed said that we also cherished your stance.
Khawaja Harris said that SC has become complainant in Panamagate case while Justice Ejaz Afzal remarked that proceeding in trial court will give chance for arguments on evidence and JIT members.

Justice Ijaz said it is on record that Iqama has never been cancelled.
Khawaja Harris asked that Article 62 f(A) is applicable on not showing salary over which, Justice Azmat said that the salary deposited in the bank account is also included in the asset.
It's necessary to provide bank accounts details in the nomination papers, added Khawaja Harris.

Subsequently, the court has directed the lawyer to complete arguments till Thursday as the bench will not be available after Friday.