Last Updated On 13 September,2017 08:20 am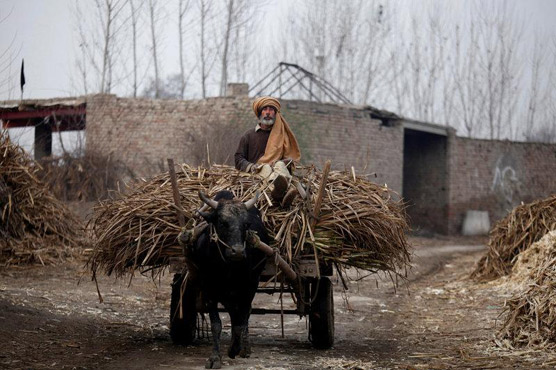 Sugar cane is a popular crop in Pakistan as the government sets procurement prices, while the industry is protected by a 40 percent import tariff which has led to high domestic prices. Photo: Reuters
(Reuters) - Pakistan's sugar industry is urging the government to reinstate export subsidies after a steep fall in global sugar prices has slowed shipments, adding to a domestic surplus just as the country prepares to harvest a record crop.
Without revenues from exports, local mills will struggle to pay farmers for new supplies, while large stockpiles will stop domestic prices from rallying in the world's eighth-largest sugar producer, industry officials said.
Prime Minister Shahid Khaqan Abbasi met with the politically influential industry last week and directed the Commerce Ministry and Sugar Advisory Board to work on ways to resolve "the issues and problems" affecting sugar, his office said in a statement.
Pakistan last had an export subsidy in 2015/16, set at 13,000 rupees ($124) per tonne for exports of 650,000 tonnes of the sweetener, and a similar subsidy level is needed again, the industry said.
"Mills are not able to export sugar at the current international prices," Iskandar Khan, senior vice chairman of the politically influential Pakistan Sugar Mills Association told Reuters.
Global prices have fallen over a quarter so far in 2017 to around $378 a tonne as output is expected to climb in key producers like India, China and Thailand.
"In the world market, prices need to rise by $60 per tonne to make exports viable," said a Mumbai-based dealer with a global trading firm.
Sugar cane is a popular crop in Pakistan as the government sets procurement prices, while the industry is protected by a 40 percent import tariff which has led to high domestic prices.
The association says the area given over to sugar cane has risen about 30 percent over the past seven years, while output has more than doubled with the help of government subsidies for fertilizers and other aids.
Pakistan produced 7 million tonnes of sugar in the 2016/17 marketing year ending September 30, exceeding local demand of around 5 million tonnes, and the association pegs this year's crop at a record 8 million tonnes.
Pakistan controls sugar exports via quotas in an effort to ensure sufficient local supplies. So far this year it has authorized 725,000 tonnes of shipments, which would make it the world's ninth largest exporter, according to the United States Department of Agriculture.
However, the country has actually exported only about 350,000 tonnes, traders estimate, with current stockpiles sitting at about 1 million tonnes.
Mills in Pakistan usually start crushing in October, but this year plan to delay crushing by a few months as they lack the funds to settle bills for cane purchases before the new season, said a sugar miller based in Karachi.
"Pakistan has no choice but to export surplus sugar," said the Mumbai-based dealer.