Last Updated On 12 September,2017 11:30 pm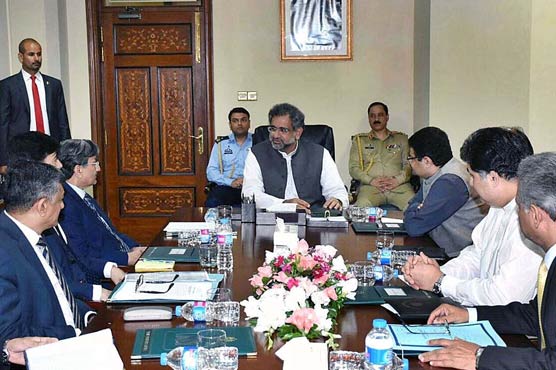 The Ministry of Commerce presented various short term and medium term options for trade revenue
ISLAMABAD (APP): Prime Minister Shahid Khaqan Abbasi on Tuesday chaired a high level meeting to review the balance of trade and measures to boost exports.
The Ministry of Commerce presented various short termand medium term options to increase exports and contain imports. The prime minister directed to ensure that no option considered should have a dampening impact on Pakistan's economic growth rate and development.
The meeting also focused on the GSP Plus status and reviewed various measures to expand and deepen exports into the European markets, a press release issued from the PM's Media Office here said. The prime minister stated that he would like the Pakistani diplomatic missions abroad to serve as economic and trade ambassadors of Pakistan.
He took notice of the revision of exports numbers by the Bureau of Statistics and instructed that all reports should be duly verified for accuracy before public announcements.
The prime minister appreciated that the overall balance of trade had improved in the month of August, 2017. The meeting was attended by Minister for Commerce Parvaiz Malik, Special Assistant to the PM on Economic Affairs Miftah Ismail, Special Assistant to the PM on Media Affairs Musadik Malik, Special Assistant to the PM Ali J. Siddiqui and senior government officials.
In another meeting, PM Abbasi told journalists that Pakistan had suffered massively due to instability in Afghanistan and believed that the solution should be Afghan-led and Afghan-owned. Rejecting the allegations about terrorists' sanctuaries inside Pakistan, he stressed that the leadership of militant groups was based in the neighbouring Afghanistan regions.