Last Updated On 12 September,2017 10:03 am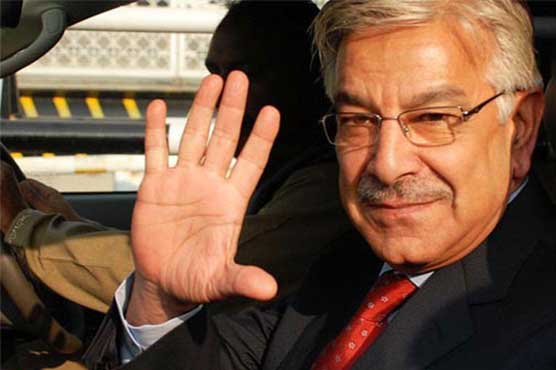 The foreign minister will hold meeting with Turkish counterpart Mevlut Cavusoglu.
ISLAMABAD (Dunya News) - Foreign Minister Khawaja Muhammad Asif has embarked on a one-day official visit to Turkey today (Tuesday) for discussion on the new US policy regarding Afghanistan and South Asia.
The foreign minister will hold meeting with Turkish counterpart Mevlut Cavusoglu. Bilateral ties, current regional and international developments will be on the agenda.
Last week, Asif delayed his meeting with US Secretary of State Rex Tillerson in Washington. The Pakistani government also postponed the visit of Alice Wells, acting assistant secretary of state for South Asian affairs, to Islamabad.
During his day long visit to Tehran on Monday, Khawaja Asif called on Iranian President Dr. Hassan Rouhani and discussed strengthening of brotherly relations between the two countries rooted in common history, culture and people to people ties and reaffirmed the mutual desire to strengthen bilateral cooperation.
Earlier, soon after his arrival in Tehran, Foreign Minister held detailed talks with Iranian Foreign Minister Dr. Javad Zarif on bilateral relations and the prevailing regional situation, including efforts for peace and stability in Afghanistan.
Khawaja Asif stated that pursuing the policy of peaceful neighbourhood, Pakistan was committed to further strengthen relations with Iran and to work closely for promoting peace, security and development in the region. In this regard, he expressed satisfaction over increasing engagement between Pakistan and Iran while emphasizing the need to focus on promoting trade, economic cooperation and connectivity.
The Iranian Foreign Minister Dr. Javad Zarif reaffirmed Iran s commitment to deepening relations with Pakistan in diverse fields including in trade, investment, connectivity as well as border management.
Both Ministers shared deep concern over human rights violations in the Indian Occupied Kashmir.
The two Foreign Ministers also exchanged views about efforts for peace and stability in Afghanistan, particularly in the context of latest developments in Afghanistan. They agreed that there was no military solution to the conflict in Afghanistan and a politically negotiated settlement was imperative for lasting peace in Afghanistan. They underscored that the regional countries have vital stakes in stability in Afghanistan should play a more proactive role in the peace efforts.
The two Ministers also expressed deep concern over the atrocities being committed against Rohingyas and agreed on the need for urgent humanitarian efforts to alleviate their suffering.