Last Updated On 07 September,2017 05:53 pm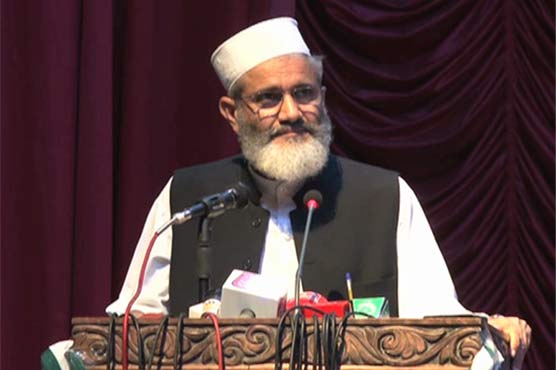 Siraj-ul-Haq has demanded that Pakistan should immediately expel the ambassador of Burma
PESHAWAR (Dunya News) – Jamat-e-Islami Chief Senator Siraj-ul-Haq has announced to hold a protest rally in Islamabad against the genocide of Rohingya Muslims in Myanmar, reported Dunya News.
He asserted that the international silence over the genocide of Rohingya Muslims is a crime. "Pakistan should immediately expel the ambassador of Burma," he demanded while addressing a youth festival in Peshawar.
Siraj said that he is satisfied with the performance of his ministers in Khyber Pakhtunkhwa. "Imran Khan will be in a better position to tell you about the performance of PTI ministers in KPK," he said.
He vowed that he will transform Pakistan into an Islamic welfare state. "The father who won't allow his girl to study, will be put in jail," he said. He said that he hopes that apart from boys girls should also have separate grounds at union council level.