Last Updated On 01 September,2017 06:36 am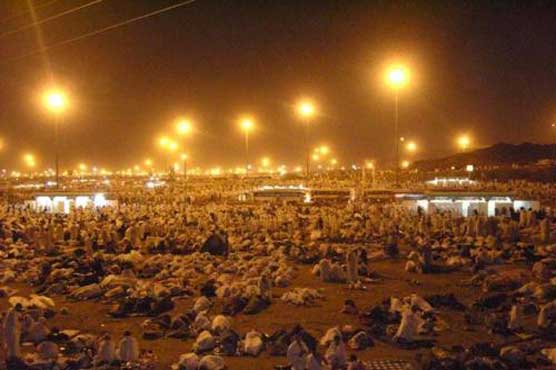 The pilgrims have started to arrive in Muzdalifah after performing the main rite of Hajj at Arafat.
MUZDALIFAH (Agencies) - After completing the ritual of standing at Arafat, the pilgrims moved, after sunset on Thursday, to Muzdalifah in a calm and dignified manner, reciting talbiyah a great deal. They offered the Maghreb prayer with three raka'a and Isha prayer in two raka'a at the time of Isha after reaching Muzdalifah, and spend the night there in supplication. There they will gather pebbles for a symbolic stoning of the devil ritual on Friday.
The pilgrims have to perform four main rituals on Friday, which is known as the Day of Sacrifice, when all Muslims other than pilgrims start celebrating Eid Al-Adha festival. After reaching Mina from Muzdalifah, they perform stoning at Jamarat Al-Aqba, sacrifice animals, shave their heads and then leave for Makkah to perform Tawaf Al-Ifada and Sai', two other pillars of Haj.
In the remaining two or three days of Haj, the only ritual to perform in Mina is stoning at each of the three Jamarat (pillars symbolizing Satan) in Mina.
Earlier on Thursday, the vast plains of Arafat were soaked with tears of millions of repenting pilgrims and the air reverberated with their prayers at the spiritual climax of Haj. Helicopters flew around the area as the pilgrims converged from dawn on the Arafat plain and on Mount of Mercy. Forming a sea of white, the pilgrims ascended the hill and took up positions to pray on rocks already heated by the morning sun.
The pilgrims' attire turned the hill white in color, and they carried umbrellas as shields against the hot desert sun. All male pilgrims dress in white ihram to symbolize a state of purity, which also emphasizes their unity regardless of social status or nationality. Some pilgrims sat alone on rocks, praying silently, as others gathered in groups, their voices in a loud appeal to God.
Men and women from nearly every country in the world gathered side by side, some crying on their neighbor's shoulder.
An elderly Syrian pilgrim sitting on the hilltop shouted out, "Oh God, take revenge on the oppressors". Others assembled around him responded, "Ameen."
Awfa Nejm, from a village near Homs, said: "We ask God to protect Syria and its people and return it to the way it was before." Twenty-seven-year-old Amin Mohammed from Nigeria said he was praying for peace in his country.
Tunisian mother-of-three Fatima Arfawi said she was moved beyond words. "This is the first time I see anything like this, ever," she said. "This day is dedicated to prayer for my three children and my family."
In a hospital opposite the mountain, an area was set aside for people suffering dehydration or heat exhaustion. The Saudi Red Crescent said it had deployed 326 ambulances along the pilgrimage route to handle health emergencies.