Bring it on: PFA's fight against fizzy drinks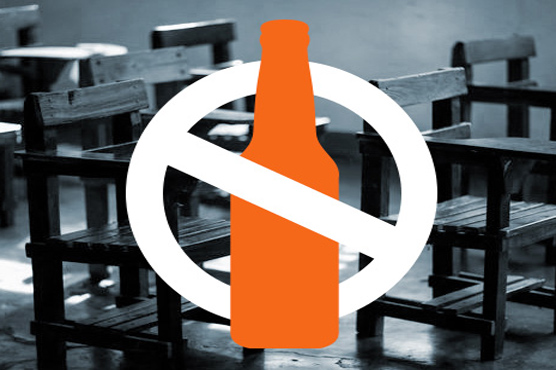 The Punjab Food Authority has launched a strict operation against soft drinks in educational institutions.
By Abdullah Zafar
With schools reopening after three months of summer break, the much talked about ban on soft drinks in educational institutions is now swinging into action.
The Punjab Food Authority's (PFA) ban on all types of soft drinks in school canteens, a year since the notion was first proposed, is now being implemented. And if PFA authorities are to be believed, the implementation is being ensured strictly.
Manufacturers have also been barred by the authorities from supplying such products to any shopkeeper, canteen or drink corners located within a 100 meter radius of educational institutions.
As per the deadline given by the authorities, sale of such drinks in the said vicinity has been completely banned since August 14. For this purpose, Director General PFA, Noor ul Amin Mengal has resolved to take strict action against violators. "Notices of not supplying soft drinks to schools have been served to all companies, whilst the supplier company will be dealt with harshly," Mengal was quoted as saying.
Mengal further added that heads and owners of government and private educational institutions are also being informed regarding the ban and their cooperation would be needed to ensure the ban is properly implemented.
While speaking to Kamran Khan on Dunya News, DG PFA also said that 44% children are victims of stunted growth, which includes the deficiency of Vitamin A and Iron. The ban is imposed on the recommendations of Punjab Food Authority's scientific panel and the idea was proposed by the World Health Organisation.
"Among the total sale of cola and energy drinks, 27% of it is in educational institutions. They being extremely dangerous for growing children have been placed in the red category of food items under Punjab Educational Societies Food Standard Regulations of 2017", he said.
According to a report published by Punjab Food Authority, a strict operation against soft drink sellers in educational institutions has been initiated. Director General Punjab Food Authority himself visited schools in Wahdat Road area, Model Town, and Johar Town including American Lycetuff senior campus, Lahore Lyceum School, The Leader Grammar school, Blue Field High School while the Government Girls Primary School, CDG Model School, Government Model Middle School and Adbistan Sofia School in Shahdra were also visited. Two schools were slapped a fine of Rs. 10,000 for storing soft drinks, the report stated.
Ahead of the schools being opened, Punjab Food Authority also launched a media campaign to raise awareness about the ban and the side effects of soft drinks consumption.
---
An advertisement published on the PFA Facebook page to raise awareness about the side effects of soft drinks.
---
"I prefer to have coke with my food, why can t the government see me happy?" pleaded Zain Shabbir, a student of class six, while speaking to Dunya News. "My parents are happy that the government banned soft drinks, but I am not", the 11-year-old added.
But while there is a lot of disappointment for children like Zain, the ban has largely been received well. While most of the school-going children Dunya News talked to, opposed the ban, surprisingly some of them thought it was a good initiative.
"Soft drinks are bad for your health. It is a good decision that the government banned them. Some of the kids drink 4 to 5 bottles each day, which is neither good for your health or your pocket!" said 13-year-old Mozin Omar.
A seventh grade student Shahzeb Malik said, "The government took a good decision by banning soft drinks. They should ban fried and other unhealthy food too. Although it is tasty but it also makes you sleepy while still at school," he said.
DG PFA also requested parents to keep their children away from carbonated and energy drinks for better health, so that their growth is not affected adversely.
In a conversation with Dunya News, Mubashir Hayat, a parent of a 5-year-old welcomed the ban on fizzy drinks across the schools in Punjab. "It is a wonderful step. The extremely high content of sugar is quite unhealthy, not only for kids but also for adults. Such drinks also increase the risk of obesity."
"Government and schools should regulate healthy lunch schemes that encourage and teach parents about a healthy diet," he said.
"It's high time that such measures be taken for the health of children who otherwise find it hard to understand why parents would not let them have it when they see others around them consuming such drinks freely," said Insia Ahmad, mother of two. For Ahmad, the ban comes as a sigh of relief. "Even though the harmful effects of substances or compounds used in these drinks have yet to be researched formally, but I believe it's better to be safe than sorry when it comes to my kids," she said.
---
A video that was published by Punjab Food Authority on its Facebook page after the ban.
---
Child Specialist Dr. Khalid Akhtar, who is also a professor at Services Institute of Medical Sciences, told Dunya News that soft drinks are extremely harmful for children in their formative years. He said the intake of junk food and soft drinks results in the body missing out on important nutrients, while the child feels fulfilled.
"Energy and Cola drinks are nothing but carbonated water and phosphorus acid, that cause orthopedic disorders and result in nutritional stunting other than heart diseases and diabetes, to name a few."
Advising parents to focus on their children's diet in younger ages, Dr. Akhtar further said, "Parents should develop a healthier diet plan at an early stage that is beneficial for the growth of kids, rather than worrying about their undernourishment in later years."