PM meets FATA Senators to discuss mainstreaming of tribal areas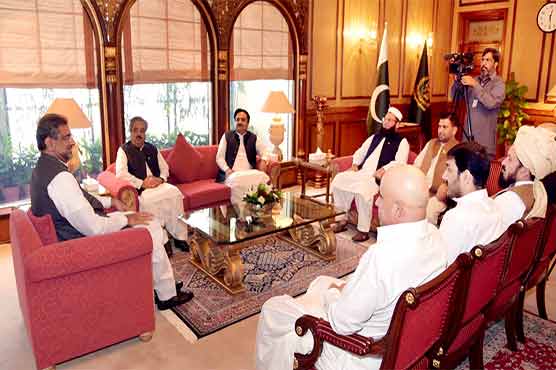 Shahid Khaqan Abbasi appointed five advisors and met with FATA Senators on Tuesday
ISLAMABAD (Dunya News) – Prime Minister Shahid Khaqan Abbasi met with FATA Senators on Tuesday to discuss upcoming reforms for tribal areas. Issues including FATA reforms, education and health also came under discussion.
PM Shahid assured Senators from tribal areas that additional funds will be issued for FATA reforms in which better health, education and social facilities will be provided. Change is must in Federally Administered Tribal Areas (FATA) to end the status quo, he stated.
Furthermore, he stressed for legal reforms and change in affairs in the region, highlighting the importance of bringing FATA at par with other units and consulting all stakeholders together for improvement in the tribal areas.
Apart from exchanging views on development projects with MNAs, PM appointed five advisors in his cabinet today. He also met Minister for Kashmir Affairs and Gilgit-Baltishtan Barjees Tahir. He was briefed by him on various aspects including development projects in Azad Jammu and Kashmir (AJK).
---