Last Updated On 09 August,2017 11:03 pm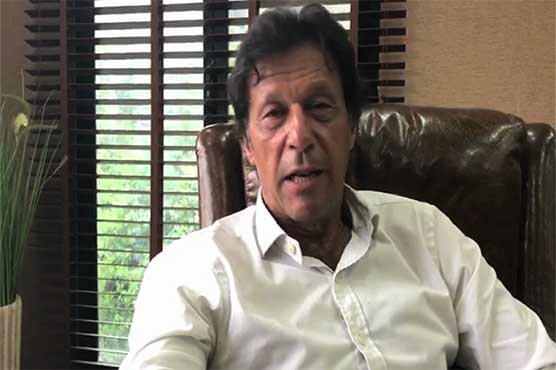 Imran Khan believes that Nawaz Sharif is protesting against the Supreme Court verdict against him
ISLAMABAD (Dunya News) – Pakistan Tehreek-e-Insaf (PTI) Chairman Imran Khan mocked Nawaz Sharif by saying he is riding his own container now, adding that the ex-PM is not ready to accept disqualification verdict ruled by Supreme Court in Panama case.
Talking to Dunya News, he accused Nawaz Sharif of using government resources, highlighting how he used to claim that he will admit any order issued by the top court. Imran Khan recalled how Pakistan Muslim League-Nawaz (PML-N) pressurised former PM Yousaf Raza Gilani to resign on the reason of allegation.
When asked about PML-N's GT Road rally, PTI chief responded that Nawaz Sharif has complete authority in centre and Punjab province then why is he protesting. He accused him of spending public funds on his political campaign.
He said, "When I used the container, he used to say that democracy is being derailed." In a press statement earlier, he stated that Nawaz Sharif and PML-N seeks to destroy the judiciary and democratic system.
In another statement, he stressed that he will not take any minister if proven dishonest. Imran Khan announced to accept the investigation of alleged lewd messages only if the parliamentary committee is free and unbiased.
He pointed out the need to consult forensic experts in the committee. The country wouldn't have suffered like today if Article 62 and 63 were implemented in their true form, he claimed. He opined that the rulers loot money and launder them to foreign countries through corrupt practices after coming into power.