PAT finalizes political, legal agenda ahead of Tahirul Qadri's return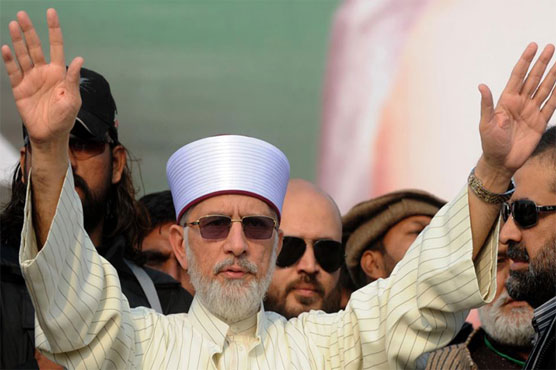 Tahirul Qadri will not return abroad until the logical end of 'Go Shehbaz Go' movement.
LAHORE (Dunya News) - Pakistan Awami Tehreek (PAT) chairperson Tahirul Qadri is returning to Pakistan tomorrow pertaining to which the party has finalized their next political and legal agenda.
According to the PAT leadership, Tahirul Qadri will not return abroad until the logical end of 'Go Shehbaz Go' movement. He has cancelled all his engagements abroad and will continue to stay in Pakistan till receiving the results of the movement.
PAT has decided that legal and political options will be adopted for the attainment of Justice Baqir Najfi commission's report. One of the legal options under consideration is to refer the Supreme Court whereas the party is also reflecting upon summoning All Parties Conference (APC) from the PAT's platform.
Qadri will announce the next plan during his Nasir Bagh rally. PAT leaders say that the party chief is likely to announce further public meetings in various cities. Moreover; consultations are also underway to begin the second phase of "Qisas and National Solidarity Movement".
PAT leaders have contacted other political parties and invited the opposition leaders to attend the rally.
Awami Muslim League (AML) leader Sheikh Rasheed has announced to participate in the rally whereas inivitations are also being sent to PTI, PPP, PML-Q and other like minded political and religious parties.
The final schedule of Qadri's welcome and route has been issued. The PAT chief will arrive on Lahore airport on August 8 at 7am. He will then hold a media talk.
Qadri is scheduled to reach Nasir Bagh Mall Road via passing through Jory bridge, Sadar roundabout, Dharampura and Charing cross. He will address a big public gathering and will then visit Data Darbar and offer nawafil.