Last Updated On 02 August,2017 01:43 pm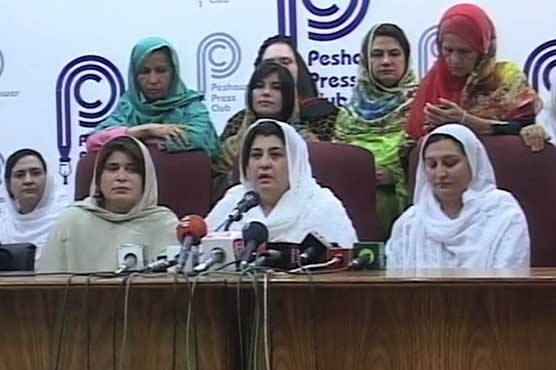 Women wing addressed press conference in Peshawar.
PESHAWAR (Dunya News)- Pakistan Tehreek-e-Insaf (PTI) women wing on Wednesday termed flurry of scathing allegations from Ayesha Gulalai as an attempt to earn cheap publicity.
They were addressing a press conference in Peshawar.
As per details available, PTI women wing asked Gulalai to seek forgiveness over baseless allegations or else Jirga (a tribal council) would be sent to her home.
"If Gulalai does not seek forgiveness within a week, we would send Jirga as per tribal traditions," asserted Zareen Zia.
"Imran Khan respects all women and as far as text messages are concerned, he does not own a blackberry. These accusations have hurt sentiments of PTI workers," added Zareen.
Zareen inquired why Gulalai did not show perverted messages before media and added that burden of proof lies on Gulalai and stated that later hurled allegations against Khattak without even working with him. While referring toward Dunya News programme 'On the front', Zareen said Kamran Shahid had exposed lies of Gulalia.
Meanwhile, Khyber Pakhtunkhwa (KP) Chief Minister Pervez Khattak termed allegations of Ayehsa Gulalai as an attempt to vilify provincial government.
"About 15 days ago, Gulalai arrived and sought party ticket for constituency NA-1 whereas she was told that only parliamentary party had jurisdiction to distribute tickets. Upon refusal, Gulalai resorted to issuance of naked threats," asserted CM Khattak.
It should be recalled that MNA Ayesha Gulalai had parted ways with PTI citing alleged harassment accusations and had leveled serious allegations against PTI chief Imran Khan and CM Khattak.
Holding a press conference in Islamabad, Ayesha Gulalai said that Imran Khan sent 'strange' text messages to female members of the party. She said that Imran Khan was a fake Pathan and didn't deserve to be called a 'Pathan' according to her.