Shahid Khaqan Abbasi sworn in as Prime Minister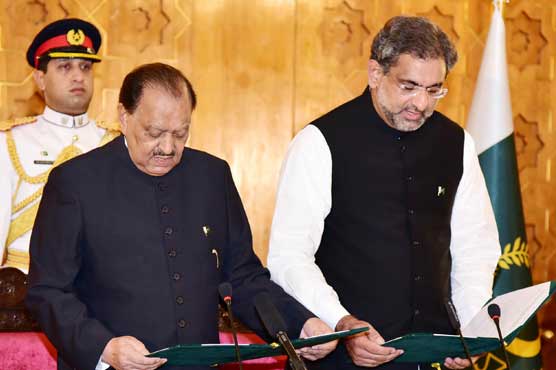 The ceremony was attended by chiefs of the three armed forces among dignitaries
ISLAMABAD (Web Desk) – President Mamnoon Hussain has administered oath to freshly elected Prime Minister (PM) of Pakistan, Shahid Khaqan Abbasi on Tuesday after he was voted as the leader of the House in National Assembly (NA).
The ceremony was attended by chiefs of the three armed forces among dignitaries.
Abbasi secured 221 votes in the assembly followed by those of candidate of Pakistan People's Party (PPP) Naveed Qamar, 47.
Nominee of Pakistan Tehreek-e-Insaf (PTI), Sheikh Rasheed secured 33 votes whereas candidate of Jamaat-e-Islami (JI) Sahabzada Tariqullah bagged four votes in the NA session.
The session that witnessed election of the fresh PM was summoned by President Mamnoon Hussain after the top court ordered the state executive to take all steps possible for smooth transfer of powers and take care of the affairs in absence of premier.
Former prime minister Nawaz Sharif was ousted under Article 62 and Article 63 of the constitution.
Shehbaz Sharif, brother of ousted premier Nawaz Sharif is to contest polls in NA-120 and in case Pakistan Tehreek-e-Insaf s (PTI) Yasim Rashid is toppled, the Punjab Chief Minister (CM) would be elected as the premier for the remaining term of Pakistan Muslim League-Nawaz (PML-N) in the government which is until June 2018.
However, it all depends on the discretion of PML-N if the party wishes to continue with Shahid Khaqan Abbasi or have Shehbaz take over.
The disqaulification of former premier came over Panama Papers leak that was published in April 2016 after sensitive documents of Mossack Fonseca, a law firm were studied by International Consortium of Investigative Journalists (ICIJ).