Tahir ul-Qadri to return to Pakistan on Aug 8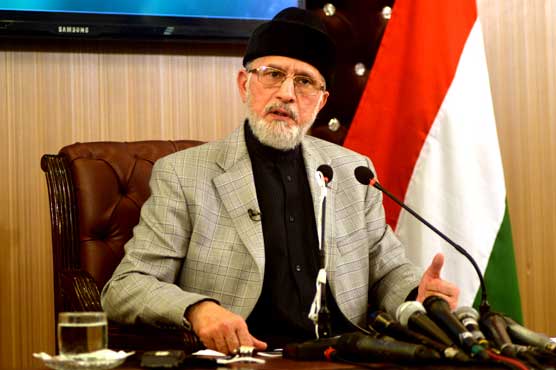 The PAT Chairman has announced to launch anti-Shehbaz campaign.
(Dunya News) – Pakistan Awami Tehreek (PAT) Chairman Dr Muhammad Tahirul Qadri on Monday announced to return to Pakistan from Canada on August 8 to launch campaign against Punjab Chief Minister Shehbaz Sharif who has been nominated for the prime minister's seat by the ruling Pakistan Muslim League Nawaz (PML-N).
We will now raise Go Shehbaz Go slogans, Qadri said.
---
ALSO READ: Support Shehbaz Sharif after me, urges Nawaz
---
Earlier in his statement after Nawaz Sharif's disqualification by the Supreme Court in Panama Papers case, the PAT Chairman said that the justifications offered by the former Prime Minister in his defence make no sense and fly in the face of facts. He said that what has come to the fore is just a tip of the iceberg, adding that the list of crimes committed by the ruling elite is very long and they need to be meted out exemplary punishment for that.
He said that the nomination of the Punjab Chief Minister, who is main accused in the Model Town incident as the Prime Minister of the country, will be a great joke with law, constitution and morality. He said that the nation will not accept Shahbaz Sharif as the PM due to his role in Model Town tragedy, adding that the destination of the killers of innocent people is jail.
The PAT Chairman demanded that the Model Town Commission report and documents contained in the Volume 10 of the JIT report should be made public now. He said that Nawaz Sharif just did not loot the country but his actions against the national security are on record as well.
Qadri alleged that Nawaz Sharif will not sit idle and will target the national institutions such as judiciary and national security institutions. He said that anxiety of the former ruler has increased manifold after expression of complete satisfaction by the people with the judgment of the apex court.