Last Updated On 30 July,2017 10:40 am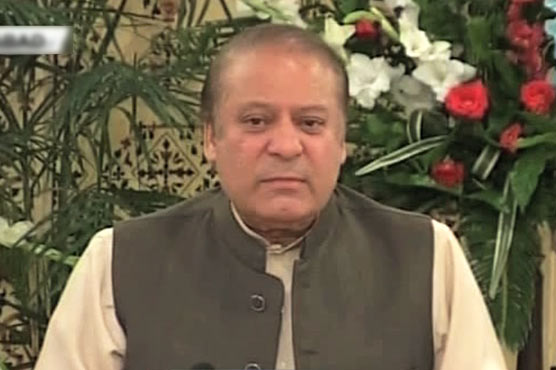 Ex-PM told he didn't withdraw the salary from Capital FZE because it was owned by his son
ISLAMABAD (Dunya News) - Former Prime Minister Nawaz Sharif held a press conference in the capital where he said Capital FZE was owned by his son which is why he didn t take any salary from it being the Chairman Board of Directors.
Reason of not withdrawing Dubai salary
"Those who visit Dubai know it is difficult to take Iqama and visa. After Saudi Arabia when I went to London, I couldn't live for more than three months and had to return London before visiting other countries as I couldn't live for a longer time at one place," he told after the disqualification from premiership by the top court on moral grounds..
Nawaz Sharif elaborated that Capital FZE was owned by his son and only formed to attain visa during the fourteen months of the exile after 1999 ouster. He said, "You should know that when I wanted to go to London, I didn't have a passport as it was expired."
While telling about the Capital FZE in Dubai and UAE Iqama, he said, "I had to take new visa from Dubai and go back to London. Our centre of politics has remained in London. For the issuance of visa, my son opened the company Capital FZE. He appointed me as Chairman of Board of Directors with a salary of 10,000 dirhams, estimated as 1,50,000 rupees."
Support for Shehbaz
Nawaz Sharif asked his party leaders to support Shehbaz Sharif after him. He announced that the Punjab CM will take charge as PM while Shahid Khaqan Abbasi will remain as interim premier for 45 days. PML-N leaders have also agreed to nominate former Minister for Petroleum and Natural Resources as interim prime minister.
The existing Punjab CM will resign from his provincial assembly seat and contest in by elections for NA-120, from which Nawaz Sharif was disqualified by the apex court. He will become PM after the success in polls and receiving votes in NA after Abbasi s resignation.
'

I am ideological now

'

There was no burden on my shoulders to give resignation as I was clean, I am an ideological person, he said while claiming that he wasn't so twenty years ago. He said it is not easy to be jailed, exiled and bear difficulties. People used to say I will be imprisoned for life in 1999, he said. Nawaz Sharif said the 14 months after exile were the most difficult in his life. He recalled the pressure from global leaders at the time of Pakistan becoming nuclear power.

The ex-PM said he is ready to sacrifice for the betterment of Pakistan, adding that he was proud of contributing for the democracy. Nawaz Sharif claimed the five-member bench verdict of Supreme Court has been disapproved by the international media. He compared himself with a young soldier who is ready to defend his country.
'

Will defend constitution, rule of law

'

While stressing to defend the rule of law, he said such minds should emerge to promote the ideology with him and make the destiny of Pakistan. He said he has no regrets of disqualification, but was happy to not be ousted over corruption. We have to change Pakistan and I have no greed for leadership, he claimed.

The struggle and sacrifices will not be wasted and come of use to this nation, he said. Nawaz Sharif prayed for the betterment of Pakistan and recalled he was very reluctant to become the PM in 2013.

Nawaz Sharif highlighted the achievements of PML-N after coming into power in 2013 including minimizing power outages, eliminating terrorism in the country, health card, new educational institutes, Lowari Tunnel, China-Pakistan Economic Corridor (CPEC) and others. He criticised Pakistan Tehreek-e-Insaf (PTI) for bad performance in Khyber Pakhtunkhwa (KP), slamming PTI Chairman Imran Khan as well as KP CM Pervez Khattak. "They couldn t even complete metro project," he taunted.
Highlighting services in premiership
Talking about CPEC, Nawaz Sharif claimed that Chinese President Xi Jinping declared the project a gift to him. He stressed that his services for the country should be acknowledged, though he doesn't want any special gift.
The history will review yesterday s SC decision, Nawaz said. While talking to executive heads of Azad Jammu and Kashmir (AJK) and Gilgit Baltistan (GB), he claimed to raise the development budgets in both regions. He said the development budget of GB was increased to Rs. 20 billion from 8 billion and that of AJK from Rs. 22 billion from 11 billion. He mentioned many of the upcoming projects that will be completed before 2018 general elections.
He pledged support to the ruling party, but hinted at stepping down from party affairs. He called the PML-N manifesto as the nationwide manifesto of the young and old.
Challenging SC verdict
The ruling party has decided to challenge the Supreme Court verdict of disqualification of Nawaz Sharif. The counsel of Nawaz Sharif will submit a review petition in the top court, challenging the disqualification based on Article 62 (f). While addressing the gathering, the former PM said that the nation knows he has not been declared ineligible over corruption.