Panama case: JIT to submit final report in SC today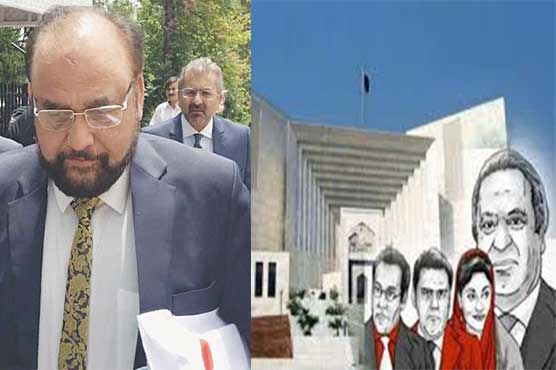 JIT probing Panama Papers case against the Sharif family will present its final report in SC today.
ISLAMABAD (Dunya News) – Joint Investigation Team (JIT), formed to probe Panama Leaks case, will submit its final report in the Supreme Court of Pakistan today (Monday).
A three-judge special bench of the Supreme Court (SC) comprising Justice Ejaz Afzal, Justice Azmat Saeed and Justice Ijazul Ahsan will examine the final report of the JIT at 1:00pm today.
The apex court's special bench headed by Justice Ejaz Afzal had directed the six-member high-powered Joint Investigation Team, tasked to probe alleged illegal properties of the Sharif family, to submit its final investigation report on July 10.
The six-member Joint Investigation Team, constituted by Supreme Court (SC) to probe much-hyped Panama Leaks case, included Federal Investigation Agency's (FIA) Additional Director General Wajid Zia, Military Intelligence's Brig Kamran Khurshid, National Accountability Bureau's (NAB) Director Irfan Naeem Mangi, State Bank of Pakistan's Amer Aziz, Securities and Exchange Commission of Pakistan's (SECP) Executive Director Bilal Rasool and Inter-Services Intelligence's Brig Muhammad Nauman Saeed.
The JIT members during seven-week period interrogated eight members of Sharif family including Prime Minister (PM) Nawaz Sharif, his younger brother Shehbaz Sharif, sons Hassan and Hussain Nawaz, daughter Maryam Nawaz, son-in-law Captain Safdar, cousin Tariq Fazal Chaudhry and brother-in-law Ishaq Dar.
On April 20, Justice Asif Saeed Khosa had announced Panama Leaks case decision comprising of 540 pages, saying that the court issued a split ruling calling for a JIT. Two of the five judges went further, branding Sharif "dishonest" and saying he should be disqualified, but they were outnumbered.
Panama Papers had published a leak of documents belonging to Mossack Fonseca, a law firm in April 2016 creating uproar in Pakistan among other countries. The leak was studied by International Consortium of Investigative Journalists and stated names of incumbent as well as former leaders of the world who owned shell companies.
Opposition parties in Pakistan saw offshore companies owned by daughter and two sons of PM Nawaz as means to either stash wealth in foreign accounts or purchase assets abroad.
The top court took up the case in October last year on petitions filed by Pakistan Tehreek-e-Insaf, Awami Muslim League and Jamaat-e-Islami and reserved the verdict in February after conducting hearings on daily basis.
Meanwhile, Islamabad Police have chalked out foolproof security arrangements pertaining to Monday s hearing at the Supreme Court. Large contingents of police and Rangers will be deployed inside and outside the Supreme Court premises on the occasion for security purpose.