Captain (r) Safdar appears before Panama JIT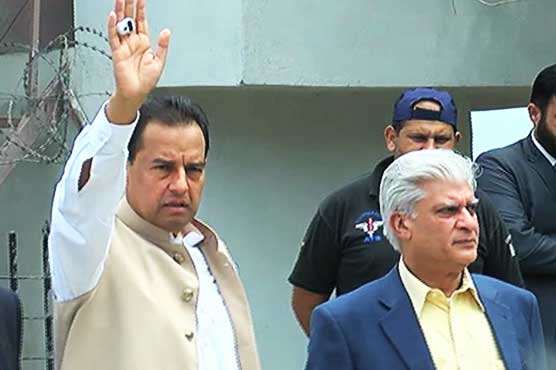 Security has been tightened up to avoid any untoward situation.
ISLAMABAD (Dunya News) – Prime Minister (PM) Nawaz Sharif's son-in-law Captain retired Safdar has appeared before the Joint Investigation Team (JIT), probing much-hyped Panama Leaks case.

Captain (r) Safdar accompanied by Asif Kirmani received warm welcome by Pakistan Muslim League-Nawaz (PML-N) workers at Federal Judicial Academy.

Sources told JIT, headed by Federal Investigation Agency s (FIA) Additional Director-General Wajid Zia, would ask queries related to the dependency of PM's daughter Maryam Nawaz and his assets.

On the occasion, security has been tightened up to avoid any untoward situation.

Earlier, Wajid Zia appeared before the three-member bench of SC led by Justice Ejaz Afzal Khan and presented third progress report.

The report was being prepared in the light of thorough interrogation of Prime Minister (PM) Nawaz Sharif, Chief Minister (CM) Punjab Shehbaz Sharif and PM's sons Hussain and Hassan Nawaz.

The court had directed JIT to submit the final report on July 10.

On June 15 and June 17, PM Nawaz and CM Shehbaz Sharif appeared before JIT respectively and recorded their answers regarding Panama Papers case.

The prime minister had said never before in the history of the country, three generations of a family were held accountable the way his family is being done. He said the present process of accountability has been extended to period beyond his birth.

Shehbaz Sharif had said that he has always ensured the supremacy of the Constitution and law while he also pledged to cooperate with JIT.