Last Updated On 24 June,2017 12:10 am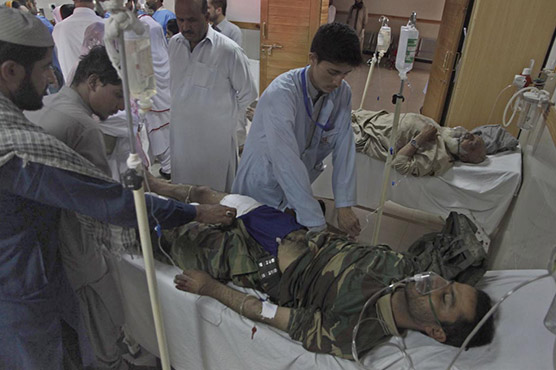 Over 40 lives were lost while over 100 injured in three blasts in different cities
(Web Desk) – Over 40 lives lost and over 100 people were wounded on Friday as three bomb blasts rocked Quetta, capital of Balochistan province, and Parachinar, capital of Kurram Agency which is one of the semi-autonomous districts of Federally Administered Tribal Areas (FATA) that the army has spent a lot to clear of insurgency.
Chief of the Army Staff (COAS), General Qamar Javed Bajwa mourned the casualties ahead of Eid-ul-Fitr by saying that the 'enemy was trying to mar nation's festive mood'.
Prime Minister (PM) Nawaz Sharif, presently in Saudi Arabia on a personal visit during holy Ramazan, condemned the attacks in a statement. The President branded the terror attacks to be executed by the last remnants of extremists in the country.
---
Quetta and Parachinar on June 23, 2017
---
Authorities said 13 people were killed and 124 wounded when twin blasts tore through a market in
Parachinar, capital of Kurram district, a mainly Shia area of Pakistan's tribal belt.
Local official Nasrullah Khan told AFP that the first blast detonated as the market was crowded with shoppers preparing for the Eid ul-Fitr festival marking the end of Ramadan.
---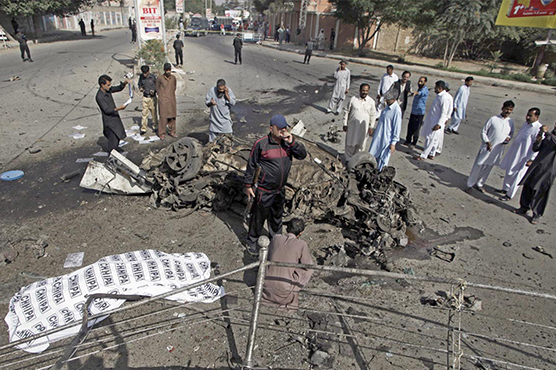 June 23, 2017: Quetta blast site
Online photo
---
"When people rushed to the site... to rescue the wounded, a second blast took place," he said, adding that he could not give further details of the attack but that officials fear the toll will increase.
Sabir Hussain, the medical superintendent at Parachinar s main hospital, said it had received 13 bodies and 124 wounded.
---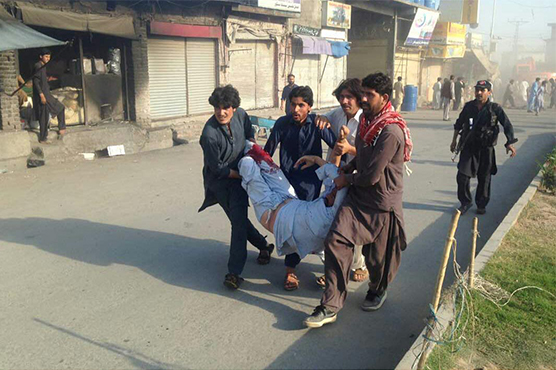 Minutes after Parachinar market blast
Online photo
---
Prime Minister Nawaz Sharif called for security to be beefed up across the country as he condemned the attack, saying that no Muslim could ever imagine committing such a "horrific" act.
Pakistan has seen a dramatic improvement in security in the last two years, but groups such as the umbrella Pakistani Taliban and other extremist outfits still retain the ability to carry out attacks.
---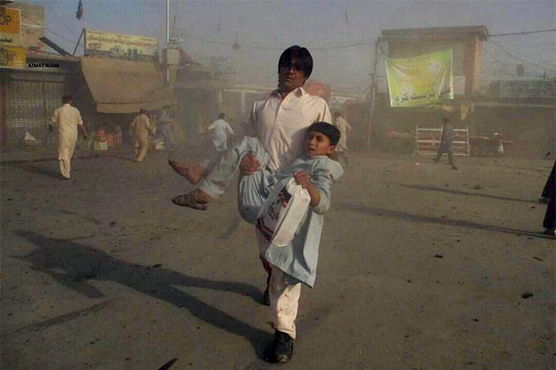 Man rescues minor at the targeted Parachinar market
Online photo
---
Local lawmaker Sajid Hussain Turi, the owner of the market, said bazaars in Parachinar had been barricaded off and vehicles banned from the area after multiple attacks have hit the city this year.
Parachinar was the location of the first major militant attack in Pakistan in 2017, a bomb in a market which killed 24 people in January and was claimed by the Pakistani Taliban. In March a second Taliban attack killed a further 22 people.
There was no immediate claim of responsibility for Friday's attack.
Kurram, one of Pakistan s seven semi-autonomous tribal districts, is known for sectarian clashes between Sunnis and Shias, who make up roughly 20 percent of Pakistan s population of 200 million.