Last Updated On 13 June,2017 11:10 pm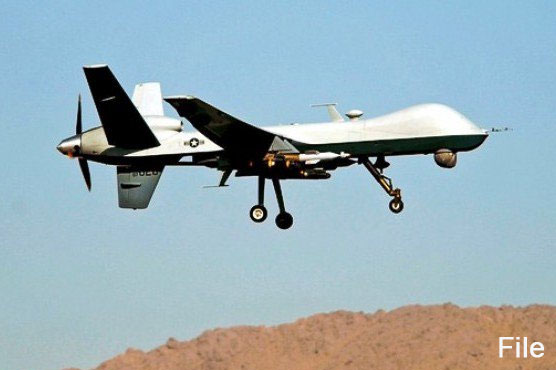 Two missile strikes by the drone targeted their commander Abu Bakr in his house
(Web Desk) – Two successive drone strikes in Hangu district of Khyber Pakhtunkhwa (KP) have resulted in killing the Haqqani network commander, according to sources from security agencies.
Apart from Abu Bakr, his partner was also killed in the two missiles fired at his house in Hangu's Speen Tal area. The drone strikes happened on Monday while the death of the Haqqani network commander was reported on Tuesday.
Sources told the missiles were directed at the commander's house while there the government officials have not given any confirmation of the strike or killing of Haqqani network leader. In fact, the Hangu area is located near the North Waziristan Agencies.
Afghan security forces had accused Pakistan's intelligence agencies and the Haqqani network of backing the suicide terror attack in Kabul which killed at least 150 people. Consequently, Pakistan s Ambassador to the United States Aizaz Chaudhry had rejected these claims and said the Haqqani network had moved to the neighbouring state of Afghanistan and suggested that the Afghan officials should emphasis on tackling them in their territory. "Security situation across the border in Afghanistan is a risk for Pakistan's growing economy," he stated in an interview.
Haqqani network is known for its brutal attacks on US-led NATO forces in Afghanistan, after being founded by Jalaluddin Haqqani and now led by his son Sirajuddin Haqqani. In 2012, the United States recognised it as a terrorist organisation and blacklisted it.