Tahir-ul-Qadri reaches Pakistan, levels allegations at Panama JIT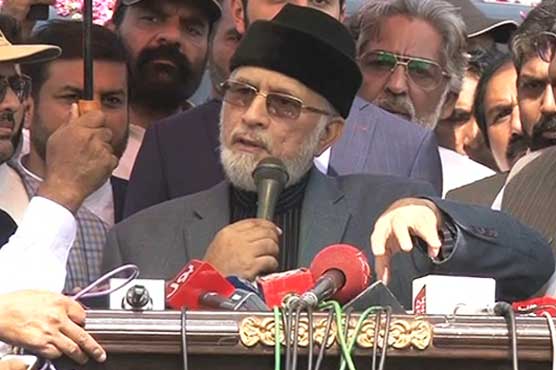 Tahir-ul-Qadri declared Panama JIT election cell of PML-N.
LAHORE (Dunya News) – Pakistan Awami Tehreek (PAT) Chairman Dr. Tahir-ul-Qadri Sunday reached Pakistan after six months, and declared Panama Joint Investigation Team (JIT) the election cell of Pakistan Muslim League-Nawaz (PML-N).
PAT chairman arrived in Lahore from Egypt via Dubai at 08:15 AM, and bashed Panama JIT in his media talk. He said the investigation team is preparing PML-N's manifesto for next election, and there is no hope of justice from the JIT.
Tahir-ul-Qadri said the matter of photo leak is just a drama, and no less than any plot of a movie. He once again claimed that revolution and change will come in Pakistan to alter the fate of this country. He also branded the election system of Pakistan a fraud, and remarked he does not believe in it.
PAT chief further continued that he will not remain silent on the Model Town brutality, and fight for the justice till his death. He made it clear that he is not one of those who lose their courage, and will continue this battle against the rulers.
Qadri told he will announce his strategy regarding Model Town incident soon. He will also meet leaders of other political parties, and a sitting with Chaudhry brothers is expected shortly.
A large number of Dr. Tahir-ul-Qadri's followers were present at the Lahore airport to welcome their leader, who then escorted him to his home in Model Town.