Shia man sentenced to death in Bahawalpur blasphemy case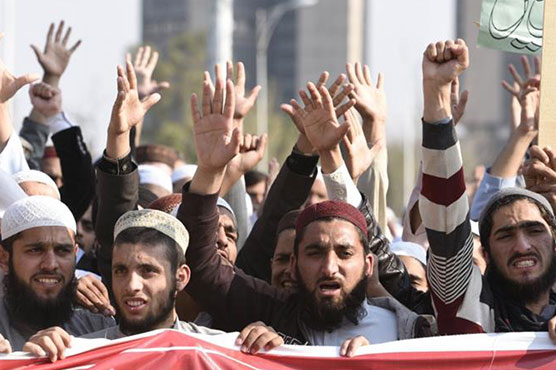 Taimore Raza was detained last year for posting blasphemous content on social media
(Web Desk) – A Shia man has reportedly been sentenced to death on Saturday by a Bahawalpur court after he was accused of posting derogatory remarks on Facebook in 2016 about Prophet Muhammad s wives and prominent personalities of Islam.
A government prosecutor, Shafiq Chaudhry reported that Judge Shabir Ahmed sentenced the 30-year-old local named Taimore Raza to death for blasphemy, the laws regarding which are arguable. Reportedly, the man hails from Lahore and a case was lodged at Counter-terrorism Department (CTD) in Multan.
Raza had a Facebook argument about Islam with someone who turned out to be a counter-terrorism department official, defence lawyer Rana Fida Hussain told.
The official brought charges against Raza based on the comments made on the social networking site.
Hussain said his client was innocent and that he would appeal the conviction.
Blasphemy laws in Pakistan have been a sacred cow for decades which have claimed dozens of lives including that of governor of Punjab, late Salman Taseer. Civil society has been putting up an ideological battle against conservative Pakistani society for years while living under constant threats.
A number of alleged blasphemy cases are not reported in the media and people are set ablaze, lynched and subjected to extrajudicial killing.
As for Pakistan's dilemma, none of the locals challenge such accusations against anyone for they will be labeled 'infidel' and meet a like same fate.
Earlier this year, in January, Federal Minister for Religious Affairs and Interfaith Harmony, Sardar Muhammad Yousaf categorically dispelled the impression given in various news reports that the government was likely to change the blasphemy law.
"We have no plan to diversify or modify the blasphemy law," he had said.
In the last few months, the interior ministry has been moved more than once by the premier to take strict action against those who allegedly are involved in uncomplimentary narrative about Prophet and Islam on the social media.
The latest of lives lost over alleged blasphemy is that of a mass communication student in Abdul Wali Khan University of Mardan. Late Mashal Khan was lynched by a charged mob of university fellows in April for reserving views deviant of the majority sparking intolerance debate yet again.
Joint Investigation Team refutes blasphemy allegations against slain Mashal
Senators from both the sides had condemned the lynching and called for the government to take steps to curb misuse of blasphemy laws in the country.
A probe led by Khyber Pakhtunkhwa (KP) Police into Khan s brutal murder is underway.
---
With inputs from APP and AFP