Last Updated On 06 June,2017 12:24 pm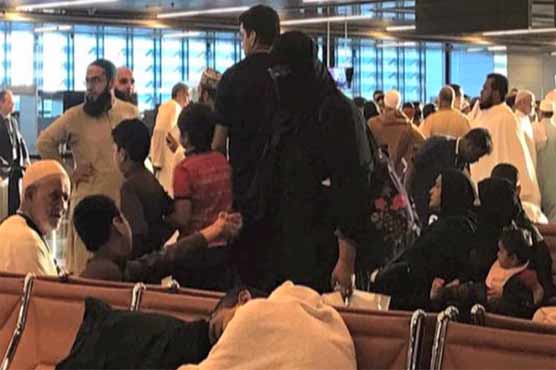 The Umrah performers have demanded government to bring them back as soon as possible.
DOHA (Dunya News) – The dispute between gulf countries, including Saudi Arabia, the United Arab Emirates, Egypt and Bahrain, with Qatar has put Pakistani pilgrims in trouble as more than 200 of them travelling through Qatar Airways are trapped at Doha airport.
Their flight was scheduled to reach Jeddah via Doha, but it has stuck in Doha after the Arab nations cut ties with Qatar, and the airline had to suspend all its flights to Saudi Arabia.
Furthermore, the airline officials have neither arranged any contacts between the passengers and Pakistan embassy, nor given them the schedule of next flight. The Umrah performers, wearing ihrams, have been stranded at the airport for hours. The airline has not even issued hotels to these passengers.
The pilgrims told that the crew of Pakistan International Airlines came, gave them consolations, and went away. The passengers have demanded government to take notice of this matter and take measures to bring them back as soon as possible.