Last Updated On 26 May,2017 06:06 pm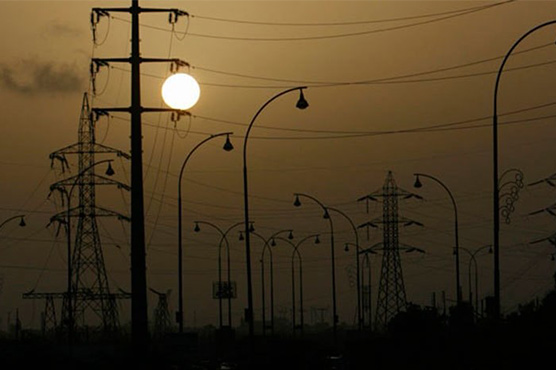 Details of the spendings on fuel and energy in the past years
(Web Desk) – Pakistan had a surplus of power in 2001 and by 2006, the country was struggling with shortfalls. With perpetual assertion of the present government to overcome energy crisis in 2018, we take a look at the funds reserved for energy in the past years by federal governments of PML-N and PPP.
---
Following bar graph summarizes the details of the funds reserved to overcome energy crisis over the past years: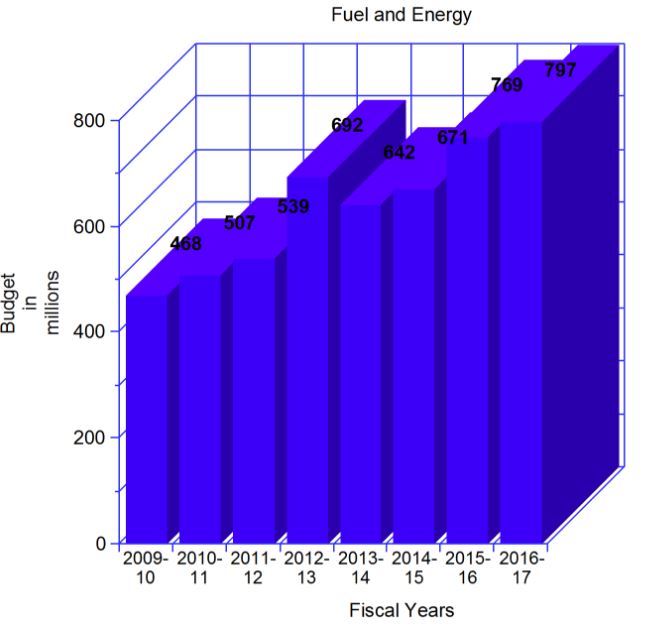 ---
Year-wise details of the funds reserved for energy
---
Fiscal year 2009-10
While presenting the budget for fiscal year 2009-10, then Finance Minister Shaukat Tareen had stated: "As a result of international recession, energy shortages, and a contraction in the economy, the industrial sector in Pakistan has been adversely affected."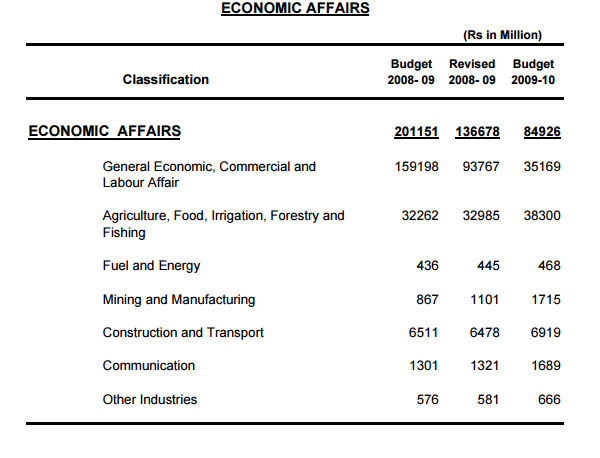 Budget reserved for fuel and energy combined in FY 2009-10 was Rs 468 million
---
Details for FY 2010-11
Abdul Hafeez Shaikh, Finance Minister for the year 2010-11 addressed a session of the parliament and presented the budget for the year. He said: "Energy shortages have darkened homes, closed down factories and shops, making life difficult and slowing down economic activity."
He admitted that Pakistan was plunging into energy crisis and allocation of a significant budget was needed for the cause.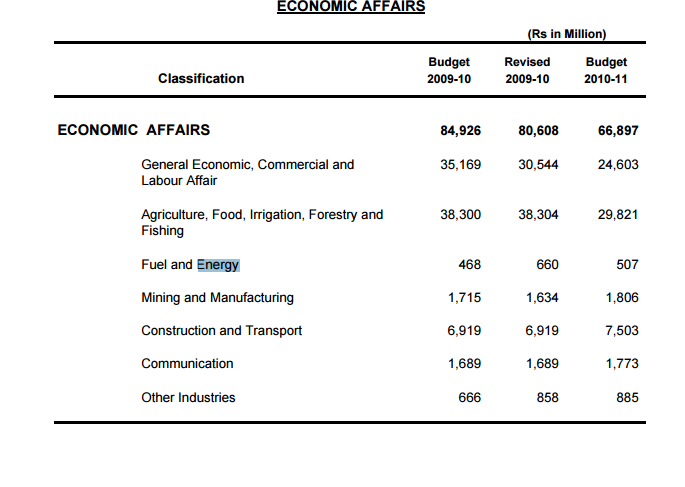 Budget for fuel and energy reserved for the year 2010-11 was Rs 507 million
---
Financial year 2011-12
Finance Minister belonging to Pakistan People s Party (PPP), Dr. Abdul Hafeez Shaikh laid out the budget for FY 2011-12 and while addressing the parliamentary session, he said: "Our power system must operate efficiently and cost effectively without subsidy and ensure full cost recovery. The taxpayer must not pay for the management inefficiencies of these entities."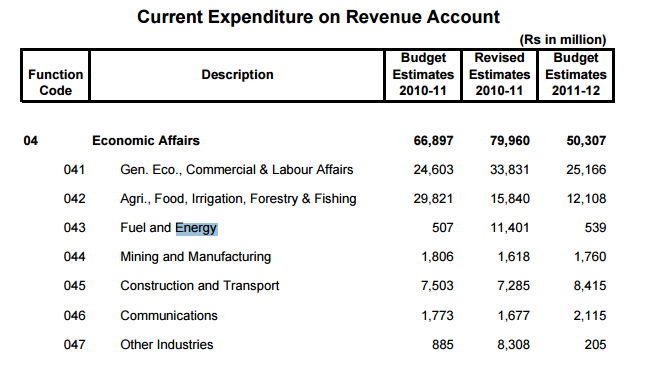 ---
Fiscal year 2012-13
In FY 2012-13, the federal minister stated in the House: "The Government is fully aware of the hardships being faced by the people of Pakistan because of energy shortages. To mitigate people's suffering, it is being contemplated to provide fiscal relief on the import and installation of alternate energy
sources, UPS and generators."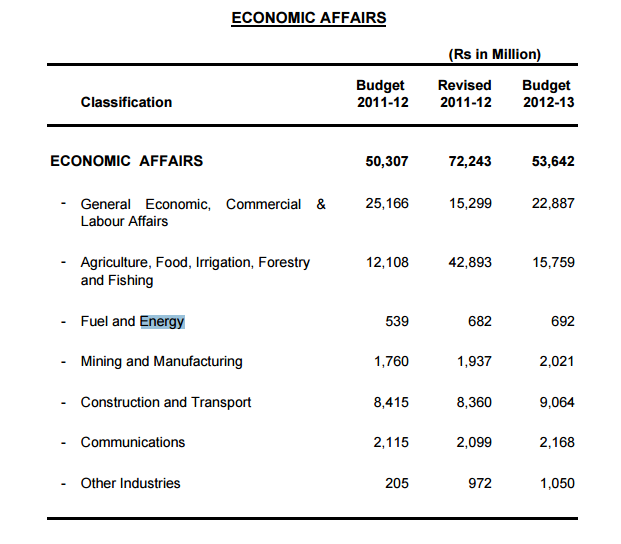 ---
FY 2013-14
While delivering his first federal budget of PML-N s tenure in 2013-14, Ishaq Dar expressed resolve to overcome the crisis. He said: "Not withstanding its enormity, PML (N) government is fully committed to solving the energy crisis facing the nation. We have chalked out a program and we are inshallah putting it in operation forthwith."
He further said: Prime Minister will soon announce a comprehensive plan to incentivize and encourage further investment in energy projects in Pakistan."
Dar said: " Nandipur for 425 MW, which initially had a cost of Rs.23 billion was a victim of criminal negligence and its imported machinery has remained stranded for the last three years for want of clearance of certain documents from government departments."
It should be noted here that Nandipur power plant was later hit by a corruption scandal and currently is not operational.
---
Financial year 2014-15
In the following year, while presenting the budget for FY 2014-15, Dar said: "The 4Es we have given in our Manifesto refer to economy, energy, education and extremism. Thus energy occupies a central position in our program. We had inherited an energy sector that was at brink of
total collapse."
Details of the allocation of funds for fuel and energy are: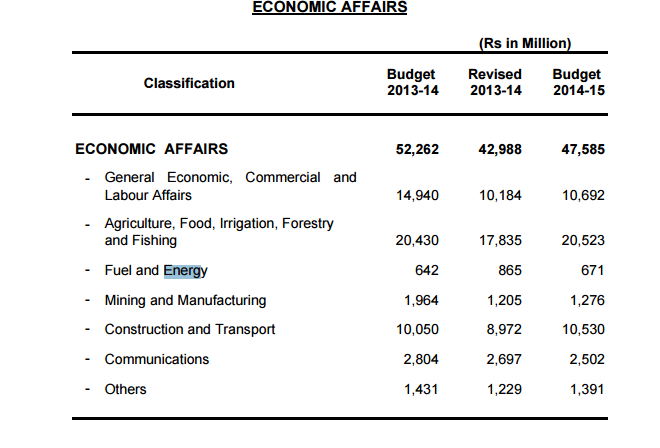 ---
Year 2015-16
For the financial year 2015-16, the government of Pakistan Muslim League-Nawaz (PML-N) maintained in the House: "Energy is one of our key priorities. This can be judged by the fact that the Prime Minister is devoting considerable type to oversee developments in the sector. A Cabinet Committee on Energy has been constituted, which is headed by the Prime Minister himself. Keeping in view the current gap in demand-supply of power in the face of high GDP target, we plan to bring 7000 MW on stream besides setting up 3600 MW LNG-based projects."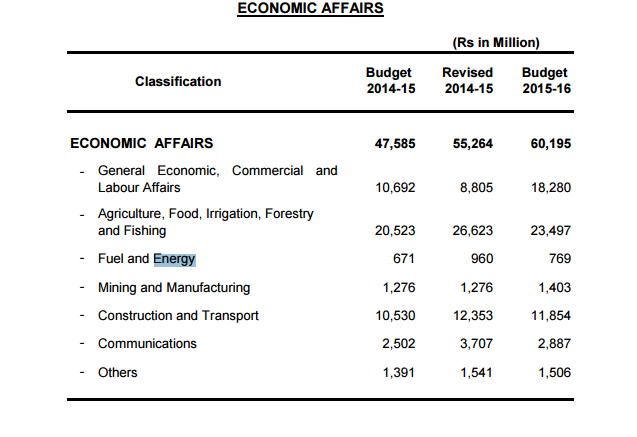 Details provided by the ministry for Fy 2015-16
---
Fiscal year 2016-17
Minister for Finance, Ishaq Dar stated while presenting the second to last financial budget 2016-17 of the PML-N government: "We formulated short, solid policies to avert this crisis on permanent basis due to which considerable reduction in load shedding. Today load shedding is being carried out systematically."
"Beyond March 2018 Inshallah, Dasu, Diamer-Bhasha, Karachi Civil Nuclear Energy and many other projects will also be completed besides coal-based projects under China Pakistan Economic Corridor (CPEC)," he added.
During his speech, he had said: "Our real focus is on developing additional resources of energy so as to permanently overcome energy shortages."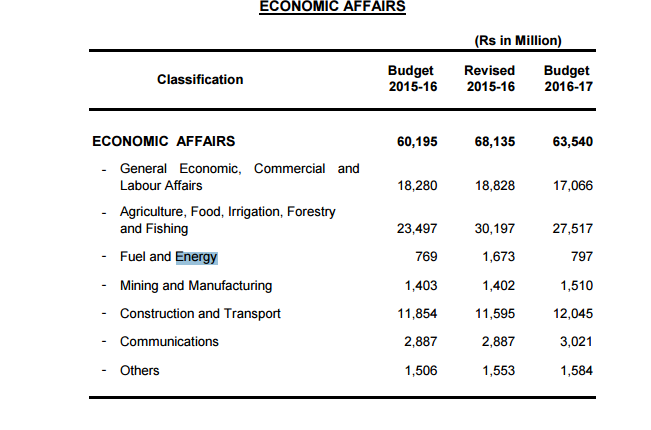 Details of fuel and energy spendings in financial year 2016-17
---
Details were collected from website of the Ministry of Finance