Last Updated On 26 May,2017 01:00 pm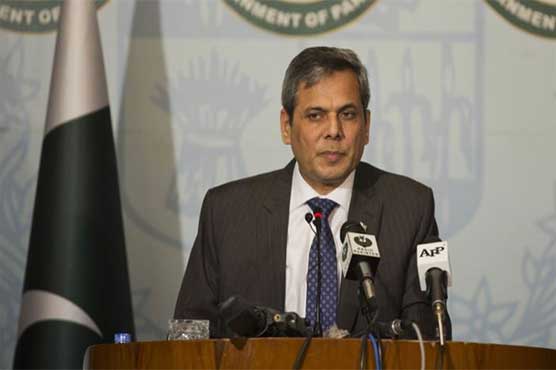 Donald J Trump referred to all participating Muslim states as affectees of terrorism, says Zakaria
ISLAMABAD (Dunya News) – Spokesperson for the Foreign Office (FO), Nafees Zakaria has offered a clarification on Thursday over Prime Minister (PM) Nawaz Sharif's Saudi visit by saying that over 30 leaders of Muslim states could not address United States-Arab summit 2017 owing to shortage of time.
While addressing a weekly press briefing, Zakaria asserted that King of Kingdom of Saudi Arabia (KSA), Shah Salman personally offered his apologies to leaders of the states who could not address the conference owing to tight schedule.
He said that US President, Donald J Trump referred to all participating Muslim states as affectees of terrorism in second paragraph of his speech.
Zakaria further said that US among international community is concerned over Pakistan-India tensions along the Line of Control (LoC) and that Indian government was alleging Pakistan of sponsoring terror to malign the ongoing movement for freedom in Occupied Kashmir.
Clarification of the office has come in after the opposition criticised PM Nawaz s Saudi visit and claimed that it s allegedly failied policies would lead to Pakistan s isolation.