Last Updated On 24 May,2017 03:29 pm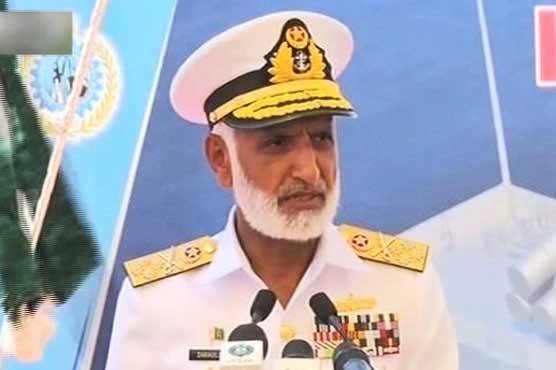 Admiral Muhammad Zakaullah addressed the 46th naval course at Pakistan Navy War College.
LAHORE (Dunya News) – The Naval Chief Admiral Muhammad Zakaullah has said that Pakistan Navy possesses all skills to defend its maritime borders, and is fully capable to thwart any aggression.
The Convocation ceremony of 46th Pakistan Navy Staff Course was held at Pakistan Navy War College, Lahore today (Wednesday). Chief of the Naval Staff, Admiral Muhammad Zakaullah, graced the ceremony as Chief Guest and conferred Masters Degrees in War Studies (Maritime) to 43 graduates from Pakistan Navy, Pak Army, Pakistan Air Force and 20 officers from Allied countries including Bangladesh, China, Egypt, Indonesia, Jordan, Malaysia, Myanmar, Nigeria, Saudi Arabia, Sri-Lanka and UAE.
The Naval Chief while addressing on the occasion highlighted that quest for resources and influence is generating competition and new alignments, in an evolving and uncertain world. In our region, the stakeholders are increasingly turning towards sea and significant investments are being made towards strategic and conventional buildup of naval forces. This is evident from the near permanent presence of large number of Extra Regional Forces in the area.
Admiral Muhammad Zakaullah said, "Pakistan is peace-loving country that seeks to pursue its legitimate economic and security interests, however, as hegemonic and domineering mindset prevails in our neighborhood, we cannot be oblivious to threats to our sovereignty and national security."
While advising the graduating officers, Admiral Zakaullah emphasized that an officer in the leadership position must face future challenges boldly with a professional approach and make best use of knowledge and skills acquired in the service of respective navies. Citing the healthy participation of Allied Course Participants, the Naval Chief said that Pakistan and Pakistan Navy will now have twenty more Ambassadors and friends forever and hoped that Allied Officers will stay connected with new friends made during the year and PN War College.
The Naval Chief congratulated the graduating officers and acknowledged the resolve of PN War College and forthright support of National Defence University in undertaking all the activities of the course.
Earlier in his welcome address, Commandant PN War College, Rear Admiral Moazzam Ilyas summarized the professional and academic activities in which the graduating officers were imparted skills during the course. He said that the presence of sizeable number of graduating allied officers is indeed encouraging and signifies the fraternal bonds between these countries and Pakistan and above all between our Navies.
The ceremony was attended by a large number of distinguished civilian guests and Senior Officers of the Armed Forces of Pakistan.