Last Updated On 21 May,2017 09:59 pm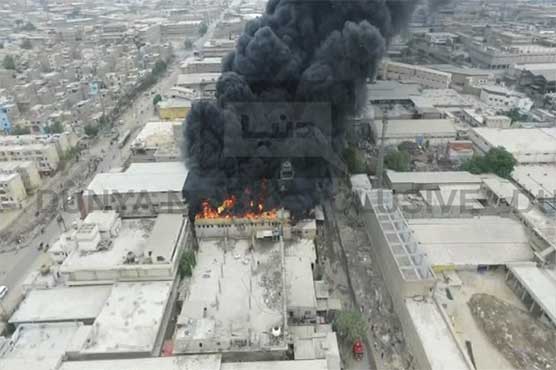 Mayor of Karachi, Wasim Akhtar paid a visit to the site
KARACHI (Dunya News) – Machines and plastic worth crores of Rupees was destroyed on Sunday until a blaze in a SITE factory was put out six hours later on Sunday.
A plastic factory in Labour Square was reported to have caught fire at around 09:00am today and two fire tenders were dispatched by the authorities after learning about the news. However, gauging the situation at hand, the department declared it a third degree fire.
Mayor of Karachi, Wasim Akhtar paid a visit to the site and reviewed the efforts put up by the authorities to put out the fire.
Owner of the factory has alleged that tenders were not dispatched on time. On the occasion, Karachi mayor asserted that the Fire Brigade department was 'destroyed' and a total of seven mobile fire stations were operational out of 22.