Last Updated On 21 May,2017 09:57 am
The declaration was sent to United Nations in March this year and is signed by Maleeha Lodhi
ISLAMABAD (Dunya News) – Pakistan will challenge the jurisdiction of International Court of Justice (ICJ) through its declaration, according to sources.
This will be possible by considering the Articles (e) and (i) of Pakistan's declaration in United Nations which was sent to the intergovernmental organization in March this year.
An appeal will be filed against ICJ's verdict on convicted Indian spy Kulbhushan Jadhav. ICJ had previously stayed Jadhav's death sentence who was trialed in a military court and confessed to being tasked by RAW to conduct terror activities in Pakistan.
In Article (e) of the declaration, it is clearly written the declaration between Pakistan and United Nations shall not apply to "all matters related to the national security of the Islamic Republic of Pakistan.
Moreover, Article (i) says "all disputes prior to this Declaration although they are filed before this Court hereafter. [The] Government of the Islamic Republic of Pakistan reserves the right at any time, by means of a written notification addressed to the Secretary-General of the United Nations, and with effect from the moment of such notification, either to amend or terminate this Declaration."
Pakistan s declaration in UN clearly states matters of the country s national security are beyond the jurisdiction of ICJ. Also, Sartaj Aziz confirmed on Saturday ICJ cannot acquit Kulbhushan Jadhav and that Pakistan would appeal against the verdict with a legal team and added preparation.
---
Pakistan s declaration in United Nations: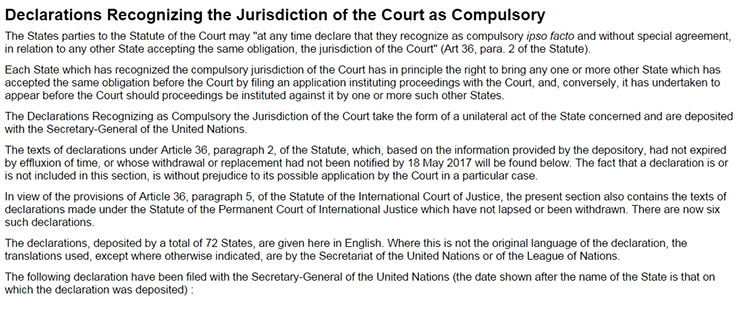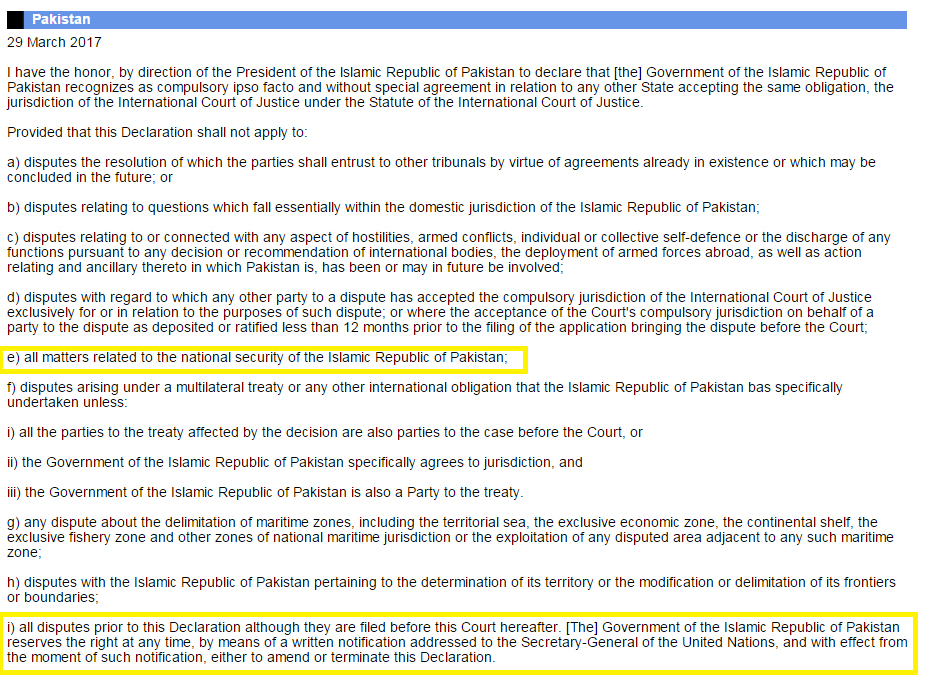 ---