Last Updated On 20 May,2017 07:28 pm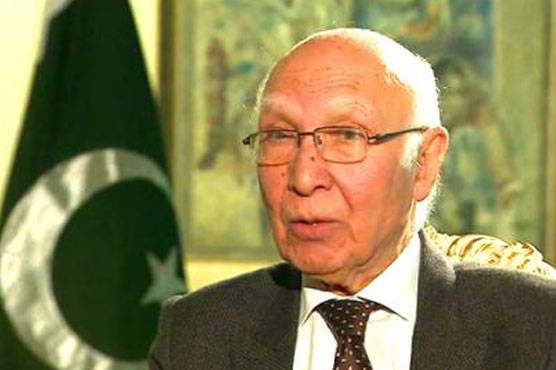 Foreign Affairs Adviser to Prime Minister rejected Indian rant of victory in Kulbhushan ICJ verdict
ISLAMABAD (Dunya News) – Adviser to Prime Minister Nawaz Sharif on Foreign Affairs Sartaj Aziz said Saturday Pakistan is a member state of the United Nations so going to the International Court of Justice (ICJ) was considered appropriate.
He argued that Indian rant of victory in convicted Indian spy Kulbhushan Jadhav case was utterly false because ICJ only stayed the death sentence till final verdict, adding ICJ is yet to give any verdict in relevance to consul access which is the Indian claim.
---
Approaching ICJ was India s mistake?
---
Sartaj Aziz presented the state's stance on the issue while saying India has made a mistake by going to ICJ as it has now paved the way for Pakistan to raise the matter of humanitarian violations in Kashmir. He gave the example of former Indian Supreme Court Judge Markandey Katju who said India has made a 'serious mistake' to approach ICJ against the Pakistan's military court order to execute the RAW agent.
While answering to the question why Pakistan entered ICJ on Kulbhushan Jadhav matter, he said Pakistan is a member state in UN and the decision was taken after consultation. He also assured everyone during the presser that Kulbhushan Jadhav cannot be acquitted by ICJ and his punishment will be in accordance with Pakistan's constitution and law. "ICJ gave no verdict regarding consular access", he added.
---
More preparation, strong legal team ahead
---
Foreign Affairs Adviser shed light on Kulbhushan's confession of being tasked by Indian spy agency RAW to spread unrest in Sindh and Balochistan. He expressed confidence in the next round in ICJ by assuing to fully prepare for the case and taking a strong legal team this time.
He defended the capital punishment given to the Indian spy which was, in fact, according to the laws of Pakistan. He said, "We only had five days last time so we couldn't appoint an ad hoc judge". He opined about appointment of Pakistan's defence Khawar Qureshi saying his appointment was on merit, adding that he fought our cause well.
---
Nawaz-Jindal meeting personal matter
---
Sartaj Aziz went on to describe the whole matter as he reaffirmed Kulbhushan Jadhav is an Indian navy officer who used fake passport to enter Pakistan illegally. He said there is no link between Nawaz-Jindal meeting and Kulbhushan Jadhav case as former was a private matter. He also added Pakistan will inform ICJ of Kulbhushan's terror activities which violated the national security.
According to Sartaj Aziz's arguments, Indian none-state actors are indulged in spreading terrorism in Pakistan. India took the Kulbhushan matter to ICJ only to hide such activities. If Pakistan hadn't defended case in ICJ then the verdict would have still been the same. All legal requisites were fulfilled before ICJ on the convicted Indian spy case which will soon reach its conclusion.
Prime Minister Nawaz Sharif presented first dossier before General Assembly in 2015 while sent second dossier to United Nations in 2017. "Kashmir policy will not change," he concluded.